7 Day New England Bareboat Sailing Itinerary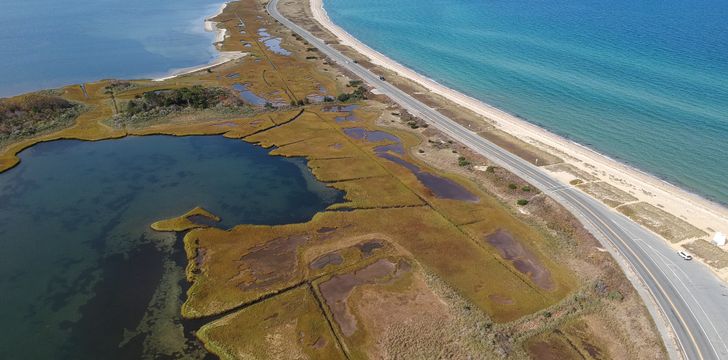 A 7-day sailing itinerary for Newport, Cape Cod, Martha's Vineyard, and Nantucket!
A yacht charter starting from Newport offers an excellent selection of charter yachts, moorings, excellent provisioning options, historic towns, and sailing culture. Newport is also renowned for the mansions/summer "cottages" built by many of America's leading families in the 18th and 19th centuries, including the Vanderbilts, Astors, and Morgans. This itinerary will guide you through America's vibrant history, allowing you to explore America's heritage dating back to Colonial times. Follow our itinerary and sail to Martha's Vineyard, Nantucket, the famous Cape Cod peninsula. Throughout, you will be immersed in New England charm and their unpretentious way of life. And a lobster or two along the way, of course!  
---
Your Itinerary
Here is our suggested route from Newport, RI to the beautiful spots of Southern New England. There are infinite adjustments you can make to this itinerary, as you will be sailing through some of the most beautiful areas of the USA.
---
Day 1 - Newport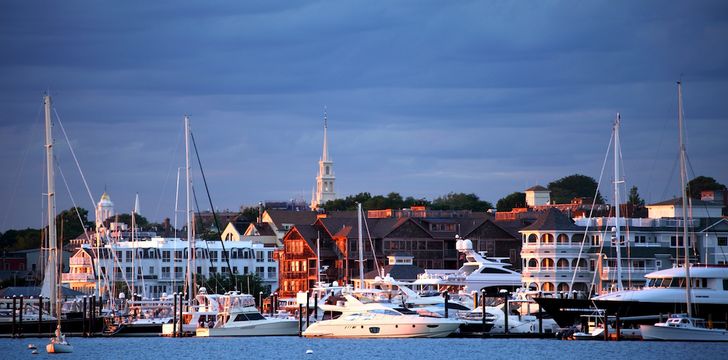 Start your charter in Newport, one of the largest ports on the East Coast of America. Spend the evening walking around the harbors and eating at one of the many fish food restaurants - you have to have the New England Clam Chowder - it's a must! Before your charter starts, you may want to hire a few bikes and do the scenic 10-mile ride tour along Ocean Drive. A great place for lunch is the Castle Hill Hotel and Restaurant.
Most of the renowned Newport mansions are located on Bellevue Avenue on the way to the Ocean Drive. You can also walk the famous Cliff Walk; a 3-mile path along a rocky coast that provides a rear view of the mansions on Bellevue. You can take a guided tour of many of the numerous mansions there. The Museum of Yachting is located in Fort Adams State Park and exhibits much of Newport's storied yachting history.
Read more about New England yacht charters in our New England Yacht Charter Guide.
---
Day 2 - Edgartown, Martha's Vineyard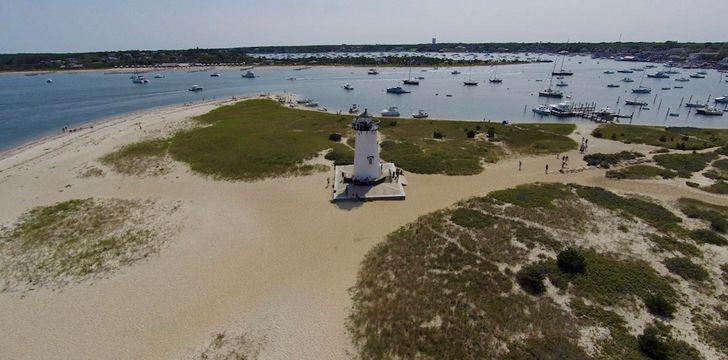 Today you will sail out of Newport to the famed island of Martha's Vineyard, passing by the beautiful sandy Elizabeth Islands, where you can stop for lunch on rustic Cuttyhunk. Carrying on, you will sail north of the island and drop down into Edgartown with Cuttyhunk on your left. If Cuttyhunk sounds familiar, it was the site of the tragic Kennedy accident.
Edgartown was the island's first settlement in the 1600s. Today it is a quaint and quintessentially New England seaside town which attracts guests from all over the world. On any given summer night, you may hear the Yale Men's Chorus singing in the street, and marvel at everyone sporting "preppy" attire.  Martha's Vineyard has stunning sandy dune beaches, perfect for picnic lunches (or if you want to feel like a true New Englander, head to the nearest clam shack)! There are many activities you can take part in on land, such as hiking, fishing, and swimming in the shallow warm water - we highly recommend exploring the island by bike. New England prides itself on culinary delights, and Edgartown is no different! Feast on seafood until your heart's content, wash it away with some crisp white wine - what more could you want?!
Martha's Vineyard Yacht Charter Information
---
Day 3 - Nantucket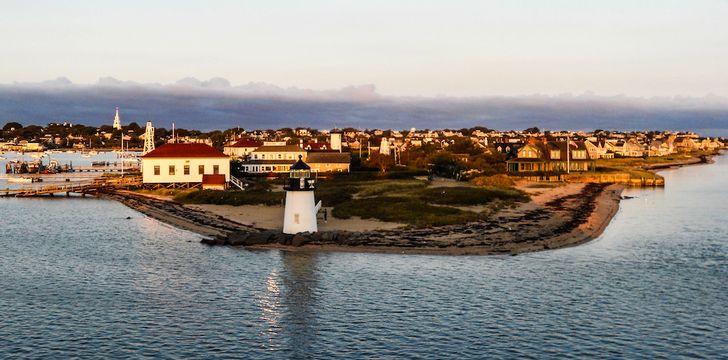 Get ready to embark on a sail over to one of America's most famed islands - Nantucket! Nantucket is a hot spot for wealthy celebrities and hedge-fund managers, with some of the most expensive real estate in the world. They own houses here because the island offers incredible beauty, charm, and privacy. You don't have to be a billionaire to enjoy it however, you can get the essence of Nantucket by walking through the Old Town and riding a bike along the miles of paths through sand dunes and seagrass to an amazing beach.
Nantucket was once a wealthy whaling town, and you can still see many of the artifacts of that era. The beautiful old houses in town were mostly built by whaling magnates, which were largely abandoned when kerosene replaced whale oil, only to be resurrected as a premier tourist spot in the late 1900s.
Cruise into the main port (by the Brant Point lighthouse made famous by the child book Barnaby Bear), missing the ferry that brings tourists over for the day. There is an option to use mooring buoys or the marina - if there's space. This is prime fishing territory so you will see an abundance of sportfishing boats! The island is small, quaint with very trendy shops and some of the best restaurants in the Cape. We highly suggest eating at Straight Wharf Restaurant - the food and service are impeccable!
New England Yacht Charter Guide
---
Day 4 - Chatham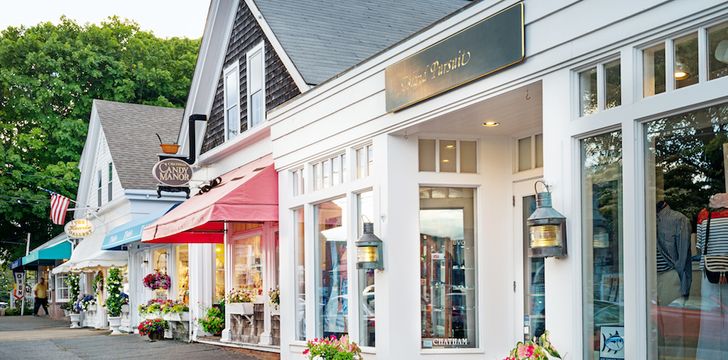 Today's sail is due north to the eastern end of Cape Cod. You will pass Monomoy National Wildlife Refuge, a famed seabird nesting area. Cape Cod is about sand and dunes, which will be very apparent!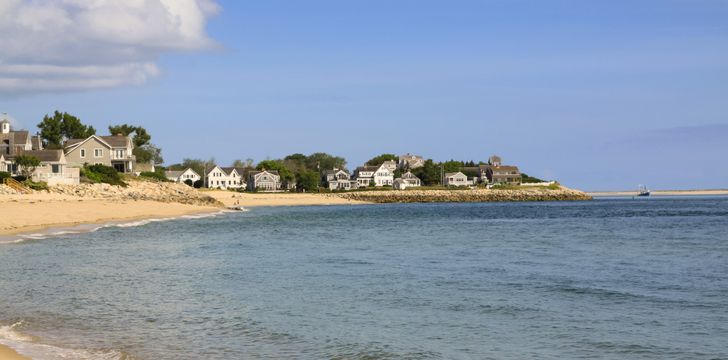 Chatham is a beautiful seaside town which is located on the southeastern corner of Cape Cod. Famed for its sandbanks and oyster crab ponds this is an area of outstanding natural beauty! The town is located along one road, which has fantastic shops and a lively pub! We would highly recommend Bluefins Sushi and Sake restaurant for some amazing, fresh tuna and wild Goose tavern for the biggest oysters you have ever seen! You can hire Kayaks if you don't have them already on board and paddle out to the sand bars. The Oyster Pond is well worth visiting which is accessible from the channel - marvel at the huge houses that overlook the water. 
---
Day 5 - Hyannis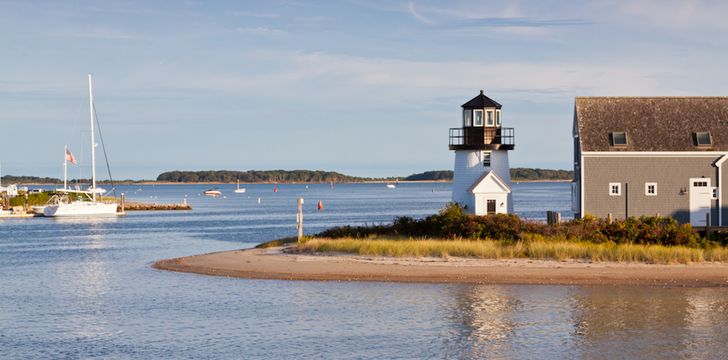 Sailing south past Monomoy again, you will then sail due west past the southern shores of Cape Cod, and pull in to historic Hyannis.
Hyannis is a dynamic town, with strong New England vibes! With great restaurants that you would expect from a seaside town in New England, this is the ultimate place to moor and rest up for the evening. Hyannis is a large town with a ferry port that gives the Cape direct access to the southern Islands, Marthas Vineyard and Nantucket. It is definitely worth checking out Barnstable, a town located due north of Hyannis, across the peninsula. It's famed for its natural beauty and gorgeous beaches. You may also catch a glimpse of the Kennedy compound west of town by a long jetty.
Alternatively, you may choose to sail past Hyannis to the famed marine research town of Woods Hole, at the southwest tip of Cape Cod. The currents are a bit tricky, but it's an amazing town to explore and offers plenty of fresh seafood.
Newport Rhode Island Yacht Charter
---
Day 6 - Back to Newport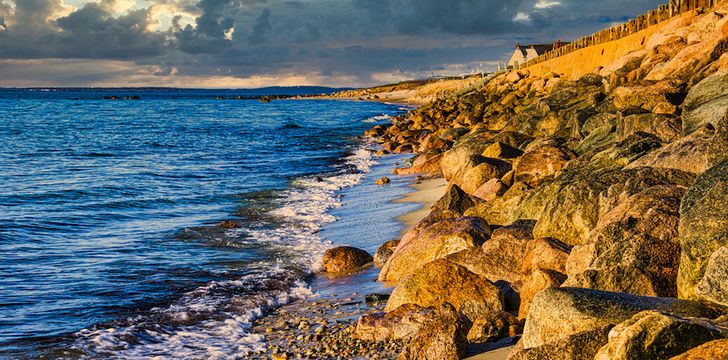 Wake up fresh and early and embark on your sail back to
Newport
to you are able to get off the yacht the next day. Cruise through the Nantucket sound and look back at the stunning Cape. Continue west sailing through Buzzards bay (pictured above). Tie off in Newport and treat yourself to one last meal on the stunning coast of New England. 
---
The best Newport and Southern New England Charter Yachts
Boatbookings has over 15 years' experience chartering yachts out of Newport, and we will find you the one that best meets your needs. Click here to see our Best Newport Bareboat Sailing Yachts or simply contact us and we'll recommend the best boat for you.
Our Top Newport Bareboat Sailing Yachts Our Top Newport Crewed Yachts
Other Articles of Interest
Charter destinations