Bali-Lombok 7 Day Sailing Itinerary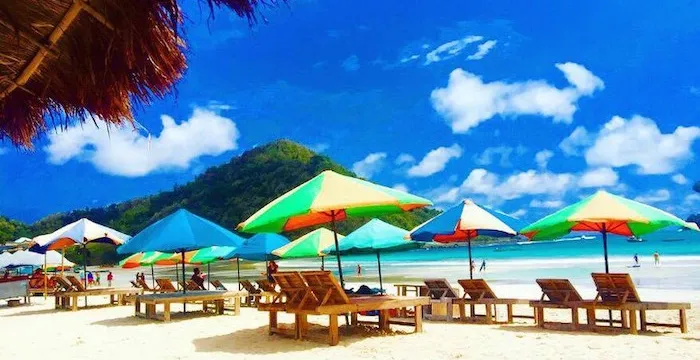 Indonesia Sailing Itinerary - Discover the highlights of Bali, the Gili Islands and Indonesia
Overview | Day One - Bali | Day Two - South Lombok | Day Three - Lombok  | Day Four - Gili Air | Day Five - Gili Islands | Day Six - Lembongan Bay | Day Seven - Bali |
This week long itinerary will lead you at a relaxing pace around the Balinese beautiful island, onto undiscovered Lombok and to the renowned Gili Islands. The ideal months are May and September, which is when you will find the best climate and season to visit. Bali is by far the most popular tourist destination in the country, due to the volcanoes, unrivalled suring and 'Eat, Pray, Love' vibe - it will be diffcult to avoid seeing this book lying in the trendy coffee shops or healthy breakfast hangouts! Here is a sample itinerary enabling you to explore the depths of Bali, from climbing Mount Batu, white-water rafting or sauntering around the shops packed full of keep sakes. It carries you onto Lombok, the quieter and arguably more beautiful neighbour, where you can swim with the rainbow schools. Next to Gili Air, which lives up to its reputation for being tranquil and gorgeous and good for those needing a break from their busy lives!
Day One: Embark from Denpasar
Depart Serangan Harbour, Bali around noon with views on traditional fishing boats and Phinisi Schooner's. After sailing North along the East coast of Bali, we move on to our destination, the beautiful Lembongan Island Bay, which is approximately 18 nautical miles away. After arrival, board the dinghy to the reef for snorkeling and swimming. Later we prepare our deck-barbecue for a delicious dinner on board your charter yacht, accompanied by a stunning sunset with the spectacular volcanic peak in the background.
Day Two: Southern Lombok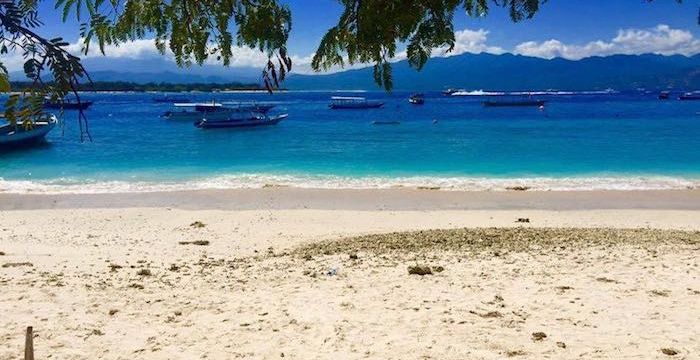 After a tasty breakfast and a quick morning swim, we set the sails for a long cruise to South-Lombok - pick your favourite spot on deck and soak up the sunshine! Our course will take us past the beautiful island of Nusa Penida and its traditional and curious fishing villages. Binoculars out, as dolphins and Mantas are often seen and sometimes still one of the rare turtles. At Lombok we enter the sheltered waters of the southern part with its many small islands. Our anchorage for the night is a concealed bay with a small fishing village and a pearl farm. After another delicious dinner on board, we'll have our sundowner with one more enchanting sunset that is typical for this bay.
Day Three: Lombok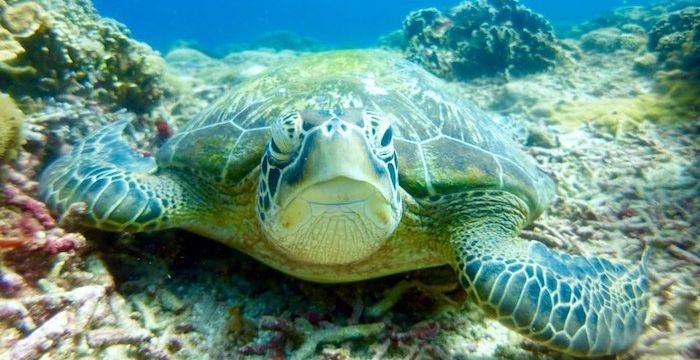 Today will be spent at our anchorage with heaps of swimming and snorkeling, island exploring and endless relaxation. Indonesia is a fantastic diving or snorkeling spot, so check out the vibrant and colourful reef, with huge volumes and variety of large and small fish species, and well as numerous sea fans, sponges and hard corals. Come up for air when you're feeling peckish, then take a splash to cool off in the glorious heat.
Day Four: Gili Air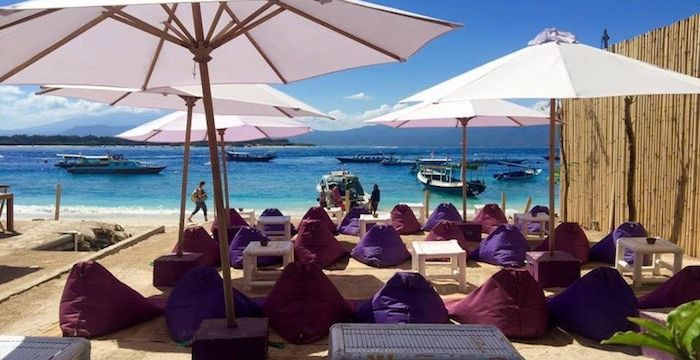 We wake up the next morning in an immaculate bay, which will invite you to a hop in the warm and clean waters. A colorful fleet of small outrigger canoes will return from their nightly fishing excursion and usually one of the older fishermen will stop by to offer his fresh catch of squids. We will lift the hook at around 7am and sail up the coast of Lombok. We pass over Senggigi and sail north to the Gili Islands, which are really beautiful and unique. Anchor will be dropped at Gili air and a shore excursion is recommended, where no motor vehicles are tolerate on the Island. You can enjoy the white shimmering beaches or we can move around the top of the island and snorkel at one of the most colorful reefs in this area of Indonesia. From this mooring, the view over the Badung Strait with the Mount Agung in the background at sunset is absolutely impressive.
Day Five: Gili Islands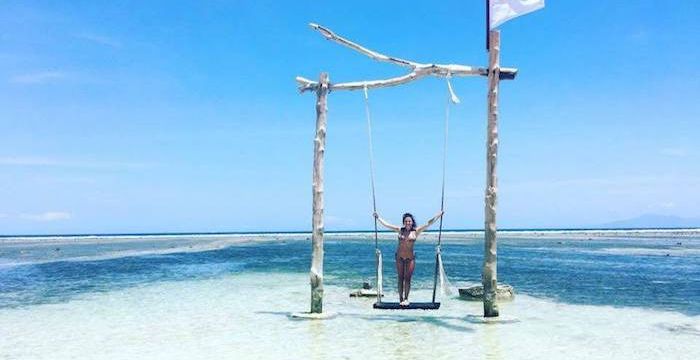 You will not have had enough of the Gili Islands, so today you can choose to anchor yourself on deck with a book, plunge beneath the water and hang out with your fish friends, or try some water sports. When the sunshine has dried you off and warmed you up check out the island - which boasts relaxing spots or places for a refreshing drink. You will rarely find a time as peaceful as you can experience here, with just the sound of lapping waves reminding you you're on a remote island in the middle of the ocean!
Day Six: Lembongan Bay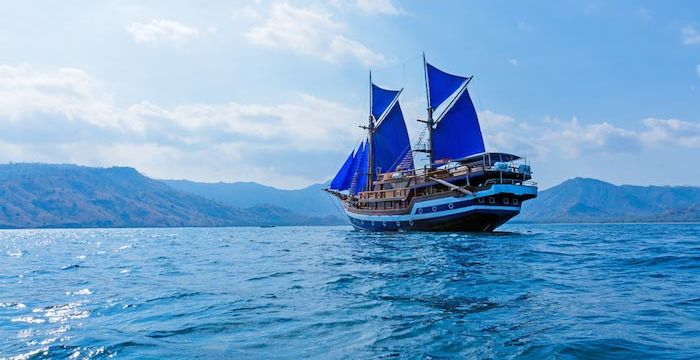 Today we'll lift the anchor at around 06:00 to cross the "Lombok-Strait" over towards Bali. We are sailing along the beautiful Gili-Islands direct to the holy Moiunt Agung on Bali. At the afternoon we'll drop the Anchor at the "Lembongan Bay" which you will recognise, and where we can swim and snorkel at a wonderful reef. Later in the evening we'll prepare our dinner and get ready for the last night on board the yacht! Make the most of it and perch on the bow to enjoy the final sunset and cherish the memories of your trip.
Day Seven: Bali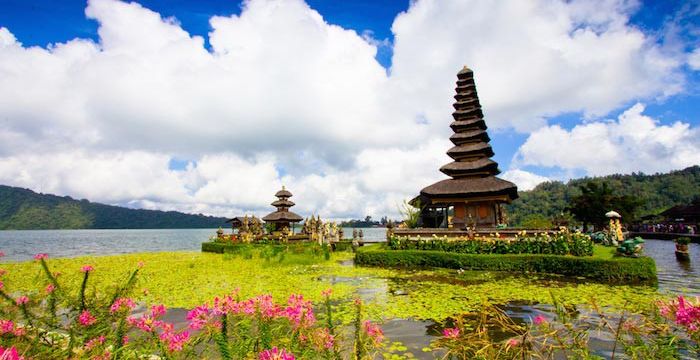 After an appetizing breakfast, we will pull the anchor and return to Serangan Bay in South-Bali. We'll try to avoid the strong current and sail very close to the beautiful coast of East-Bali towards South-Bali. After 7 days in paradise and probably one of the most glorious vacations of your lifetime it's time to disembark. We hope to see you again soon!
Other Articles of Interest
Charter destinations