You will undoubtedly be on cloud 9 with this extravagant and contemporary yacht! At 74m, she boasts four exquisite decks, each offering entertainment and luxurious amenities.
She is chosen as SuperYacht of the Week due to the unique features that make her stand out from other yachts her size. These include her impressive beach club, sizeable main deck pool. The saloon cinema is something not to miss, and last but by no means least, the sky lounge dining area.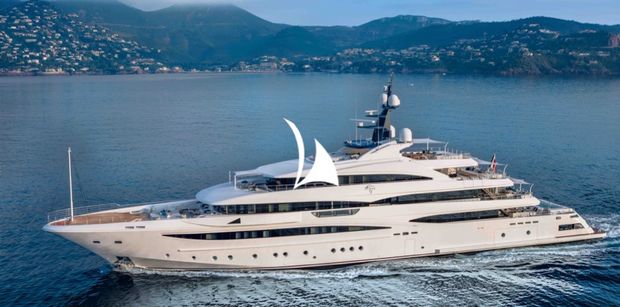 Location
CLOUD 9 spends her summers along the fantastic French Riviera. In the winter she spends her time in the Caribbean. The lower deck offers a beach club, unrivalled by most, so you can enjoy the colourful French Riviera towns such as Villefranche from the privacy of your own yacht. Sip a cool beverage of your choice served to you by your attentive crew, before sampling the wide array of water sports on offer. Get your adrenaline pumping at Monaco flying through the ocean on the Jetski, or get on the paddleboard and explore the secluded coves close up.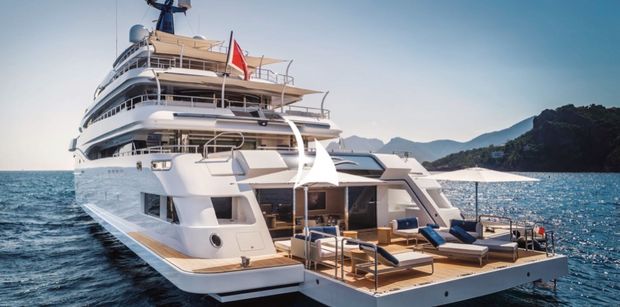 The yacht offers a Jacuzzi, so you can admire the idyllic Caribbean islands float past as you bathe in the bubbles. As the sun goes down head to the upper deck which provides the utmost comfort on its beanbags and sun pads, so you can unwind with a sundowner and enjoy the colours.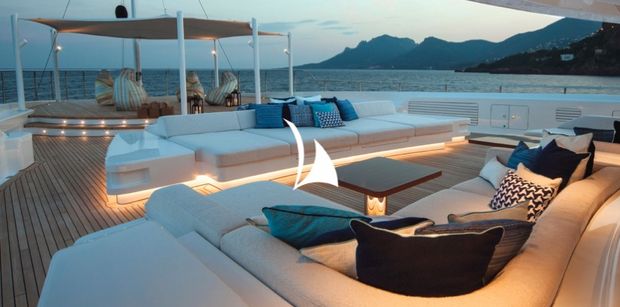 Luxury crewed French Riviera itinerary.
Social areas
For dinner, CLOUD 9 offers an unrivalled setting. The circular table enjoys the comfort and warmth of inside in the intricate interior, yet the glass revolving doors offer panoramic views of the serene spot of anchorage. As you sample the creative cuisine your private chef provides, you can feel the gentle summer breeze whilst getting a taste of local delights.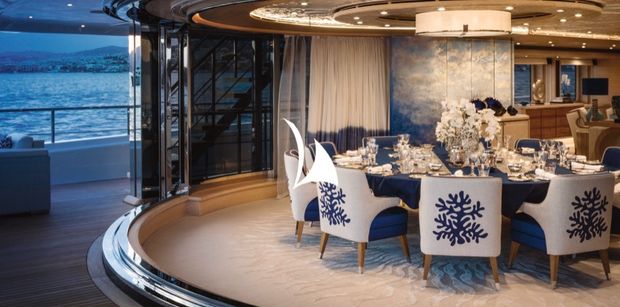 Interior
Enter the main saloon and you are welcomed into a world of elegance and style. The colourful furnishings and textured walls add personality to CLOUD 9, creating characteristic surroundings that everyone will appreciate. Do not forget that CLOUD9 is a 2017 build, so you have all the contemporary features you would expect and the latest technology throughout.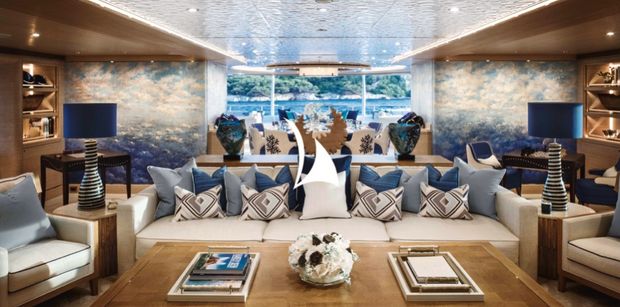 The cabins will ensure a peaceful night's sleep and enable you to feel right at home. The owner's deck has large windows facing the bow, so as soon as you wake up you are faced with utter bliss. Moreover, it extends into a terrace which is a remarkable feature brimming with exclusivity and charm to enjoy a light breakfast or to get stuck into a book.
Contact
If CLOUD 9 floats your boat, speak to our expert broker who will guide you through the process of chartering!