Solar power is fundamental in today's quest for green energy. This drive towards responsible energy can especially be seen onboard crewed catamarans. Yacht builders are increasingly harnessing solar power onboard – especially within the catamaran market. 
It is easy to see why – solar power is a cleaner and more efficient source of energy for yachts to operate enabling reduced emissions and fuel consumption, and catamarans provide ample space to place the panels!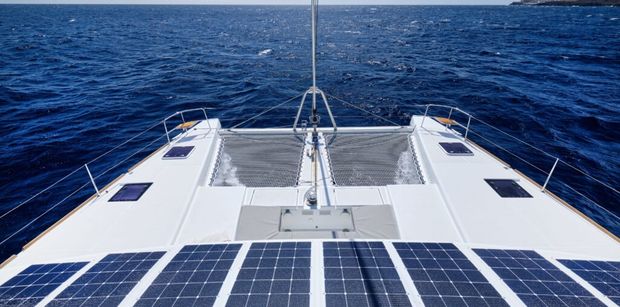 How does solar power work?
Simply put, solar panels convert sunlight into electricity through solar panels, batteries and inverters.
To maximise this green energy generation onboard, they can be integrated into the hull sides, mast, superstructure, bimini roof, hardtop canopies or even the decks. Where there is space, there is an opportunity to create cleaner energy with solar panels. We are even seeing solar cells embedded in the boat's composite structure. 
The Benefits
But why solar? Firstly, most crewed catamarans cruise in sunny places, from the lemon-drenched picturesque Amalfi Coast to the sandbanks and sunshine of the Bahamas, so harnessing this green energy from the sun makes perfect sense.
With fewer emissions and pollutants than traditional fuel-powered generators, solar power minimizes the overall environmental impact. Aside from the substantial environmental gains, it is also cost-efficient and, after the initial outlay, reduces longer-term fuel costs. This green energy generation also provides a quieter charter, running the catamaran systems from electricity rather than noisy (and stinky) fuel-burning generators. 
Why catamarans?
From cargo ships and small Atlantic crossing rowing boats to narrow boats, there are now various types utilising solar power. However, the multihull market was an early adopter for a good reason.
A lightweight catamaran provides lower drag and a bigger surface area for integrating solar panels. Because when sunny days on a crewed catamaran itinerary in the BVI outweigh those suitable for sailing, why not be on a yacht that creates fuel-free energy, powering your charter from the sun?
At Boatbookings, we pride ourselves in offering these crewed catamaran charters from builds such as Silent and Sunreef. These options are perfect for any group that wishes to have less impact on our oceans through a yacht charter.
Contact the Boatbookings team today to discuss our greener energy options.