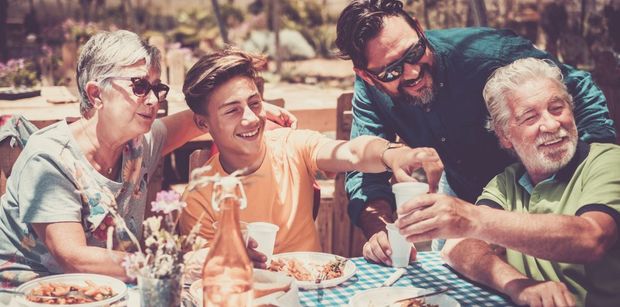 We all know the effects of what staying indoors can do to our wellbeing. From a young age, I was always told that the fresh, sea air was a healer for not only the body but also for the soul. It's safe to say that a large majority of our clients are 'outdoorsy' people, and love being at one with nature. With lockdowns, travel restrictions and our daily lives interrupted, it can be hard to think that life was once full of discovery and beauty.

We say, don't worry; the seas will just be as blue as they were before, the south of France rosé wine will taste just as refreshing at golden hour and the sun will still rise after this pandemic runs its course.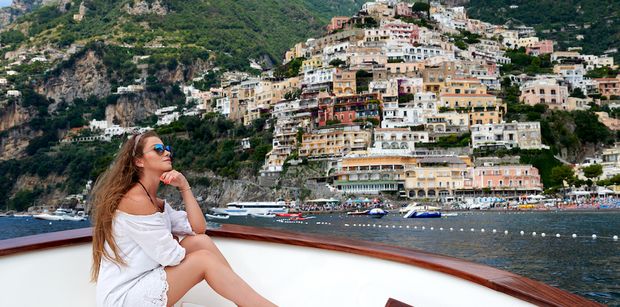 For some gentle weekend or evening reading, you can explore these incredible places through our handwritten itineraries. Whether you are are doing some homework for your 2021 expedition, or just want to escape reality for 10 minutes: we have an itinerary that suits you. We recommend making a hot cup of tea (or coffee), snuggling up on the sofa and let your mind wander to a sailing destination of your choice.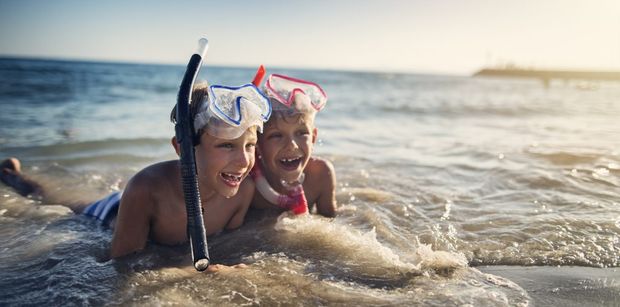 It seems prudent to list the Italian Amalfi Coast itinerary below – with all the heartbreaking news coming from our most beloved sailing countries this itinerary is a tribute to the country we know and love.
ITALY, THIS ONE IS FOR YOU.
Day 1 – Naples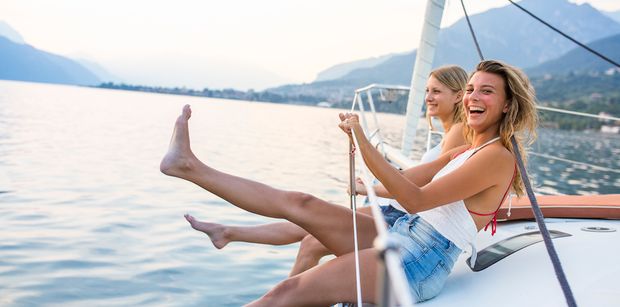 Embark your Amalfi Coast catamaran charter in Castellamare di Stabia. Depending on your time of embarkation, you can either sail towards the city of Naples for a fun-filled night exploring the bustling Via Chaia. This is the perfect opportunity to discover the beautiful city of Naples, try some fantastic pizza and enjoy the stunning views of Vesuvius that loom over the city.
Day 2: Procida to Ischia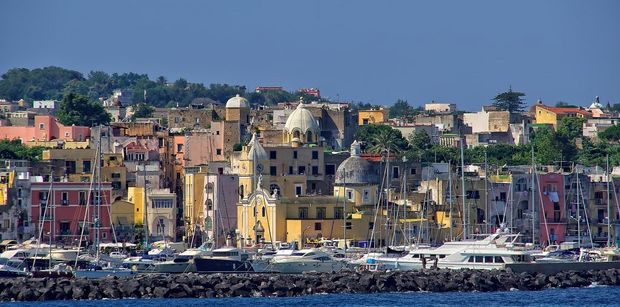 Today you will sail to the island of Ischia, known for its lush and varied landscapes and being the largest island in the Bay of Naples. You can visit the thermal springs at Negombo Bay or close to Ischia Sant'Angelo. These magical wellness centres have been used to promote health for millennia. One of our Brokers favourite anchorages is next to the Aragonese castle, the original protection of the island that rises out of the sea.

There are also many beautiful beaches that you can anchor your Amalfi Coast crewed catamaran off for a day of snorkelling and playing with the water toys. In the evening, be sure to try the local wines Biancolella and the red Pere'e palumno along with a selection of wonderful fresh fish. Our favourite high-end restaurant on the island is Indaco in the village of Ischia Lacco Ameno. This Michelin starred restaurant is renowned for their modern take on Italian classics, and you will enjoy waterside dining with spectacular views.
Day 3 and 4: Ischia and Capri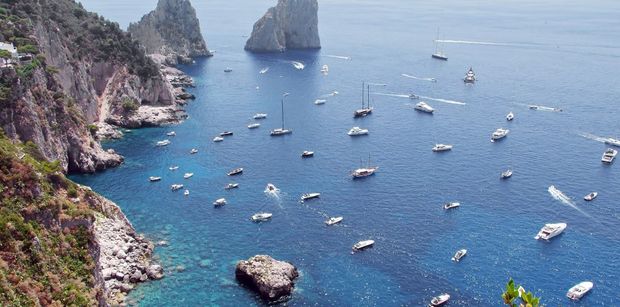 These are the days that you've always been dreaming about! Set sail from Ischia Sant'Angelo to Capri, which is around 20 nautical miles and will take approximately three hours. Your first stop will be anchoring off the north side of the island, where we would recommend a quick stop at the magical Blue Grotto. This is on everyone's bucket list and you will soon realise why. The Blue Grotto is ideally located next to our most recommended lunch spot on the island, Il Riccio Capri.
After lunch, explore the surrounding caves on the south-east coastline, before anchoring on the south side of the island next to the magical Faraglioni rock formation. This is the most iconic bay on the Amalfi Coast and the perfect place to spend the evening at anchor.
We'd really recommend a romantic dinner on board, taking in the spectacular sunset and endless ocean views. If you want to go ashore to explore the island, you cannot beat sitting in Capri's Piazetta for your Aperol Spritz before having dinner in one of the many excellent gastronomic restaurants. Our Brokers recommend sitting on the terrace of Villa Verde and sampling their excellent Squid, fresh fish and the local Fallanghina white wine. If you're in the mood to dance the night away, you have to try Anema e Core for a truly authentic and unforgettable night on Capri.
Day 5: Capri to Nerano, Positano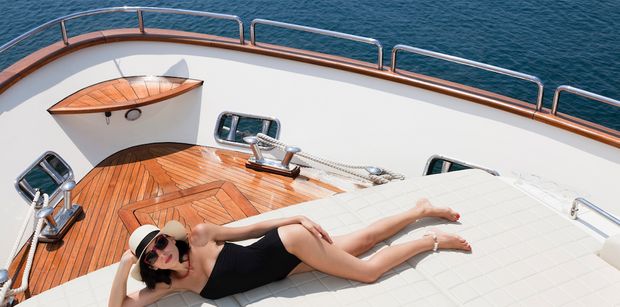 Leaving the beautiful island of Capri, you will sail towards Nerano for your first glance of the magical Amalfi Coast. Marina del Cantone in Nerano is a popular holiday destination dating back to the time of the Ancient Romans. Emperor Caesar loved it and we know you will too!
After a fun morning enjoying the calm waters, snorkelling and paddleboarding, it must be time for lunch! Conca del Sogno is the most popular restaurant and for good reason – it's delicious! There are some excellent restaurants to try in Nerano and if you're looking for something extra special, Quattro Passi cannot be missed.
If you decide to take a mooring buoy overnight in Nerano, you have to treat yourself to dinner at Quattro Passi. If you decide to cruise down to Positano for the evening, we don't blame you! Positano is the gem of the coastline and renowned for being a world heritage site with a buzzing atmosphere. Positano is the busiest and most popular town on the Amalfi Coast, so expect crowds in July and August, but it's still well worth a visit. With a plethora of restaurants to try, Da Vincenzo is renowned for offering quality authentic Italian cuisine, whilst La Sponda at Le Sirenuse Hotel is extra special. Party the night away at Music on the Rocks for an unforgettable end to your time in Positano.
Day 6. Amalfi Coast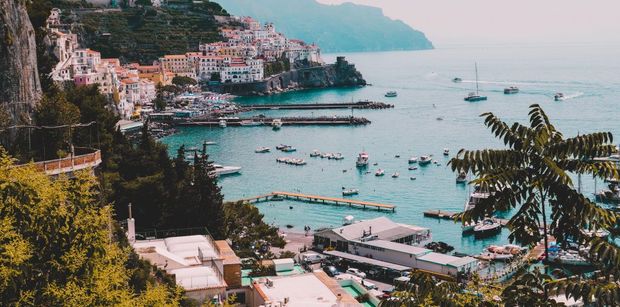 Good morning from Positano, and what a sight she is! Enjoy the tranquillity and calm of the morning as you sip your morning espresso and took into your favourite cornetti. When you're ready, set sail down the Amalfi Coast towards Conca dei Marini, one of the unsung heroes of the area. This is the perfect place to swim before enjoying lunch at anchor.
We recommend heading straight to Amalfi to make sure you arrive in time for a place in the small marina. Amalfi is one of the only ports on the Amalfi Coast and is by far the nicest, so don't miss out. Spend the afternoon ambling down the quaint streets sampling the famous Gelato, or perhaps a Limoncello or two! The famous Italian liquor is made here using produce from the neighbouring hillside, so it would be rude not to sample! For the active charter guests, you can embark on the Hike of the Gods to take in the spectacular coastal views. Don't forget your camera!
Head back to your crewed catamaran and get ready for dinner. If you would like to eat ashore, there is no better restaurant than Eolo Restaurant in Amalfi, which balances authenticity with a creative flair for a mouthwatering spectacle. Mooring in Amalfi also gives you the opportunity to head up to the mountain town of Ravello, where you could enjoy drinks on the terrace of the Belmond Hotel Caruso and a spectacular dinner. If you're in the mood for dancing, you have to try the popular Africana club, which is one of the most iconic nightclubs in Italy.
Day 7: Amalfi to Sorrento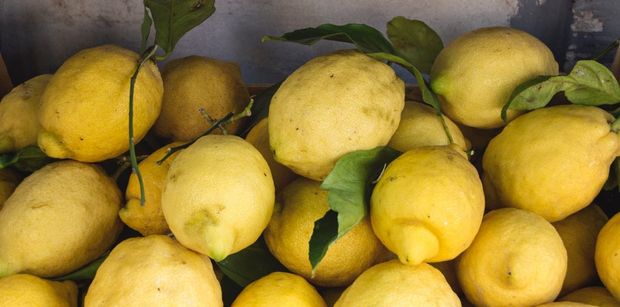 Your final day onboard will give you the opportunity to sail along the length of the Amalfi Coast, so make sure you have your camera ready! You will sail past Positano to the beautiful Li Galli islands for your last lunch onboard. Whether you choose to have a Caprese Salad, Paccheri with Swordfish or a whole baked Sea Bream, we know you will have been blown away by the food onboard this week. In the afternoon, sail to the town of Sorrento with its stunning architecture, welcoming vibe and wonderful restaurants.
From Marina Piccola, walk to the smaller port of Marina Grande where you will discover some wonderful cafes and bars. Piazza Tasso is the place to spend your evening. With the street closed off to cars, Piazza Tasso is perfect for people watching and your favourite Aperitivo. Sorrento is home to some wonderful restaurants and there is nowhere better than Il Buco, which is a firm favourite amongst our clients. Terrazza Bosquet in Sorrento is another popular choice; wherever you decide to go, you will definitely have a fantastic final meal with your friends and family.
Day 8: Disembark in Sorrento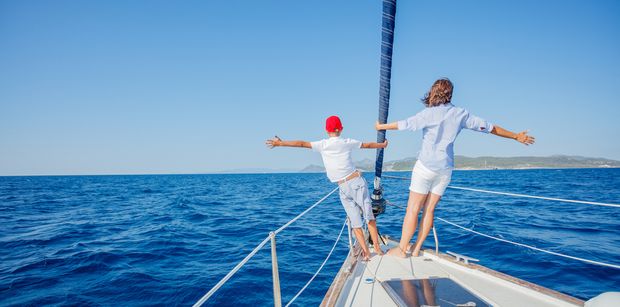 Today, say goodbye to your wonderful crew and catamaran and head back to the airport. If you have time before your flight, we would recommend stopping in at Pompeii on the way to the airport to see the impressive ruins. Your Boatbookings Broker can organise a private tour with an English speaking guide, who will bring this ancient city back to life! We know that you will have loved your time on the Amalfi Coast and you will tell all your friends to book for next summer!