This year's Fort Lauderdale International Boat Show (FLIBS 2015), held in South Florida, not only had some gorgeous yachts on display, but had some very interesting boating and yacht-related products in the electronics booth.
While many caught my eye, I came across three products that I found particularly interesting, and worth mentioning.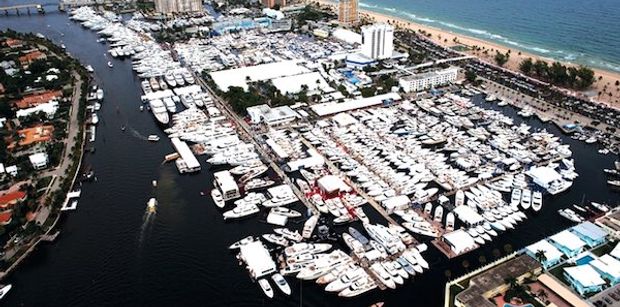 The PYI Sonihull Uses Advanced Science To Effortlessly Clean Your Hull
I passed by the PYI booth at this year's FLIBS, and noticed a very interesting piece of equipment on display. Sold under the PYI brand, NRG Marine, the Sonihull is an advanced (and easy) method of keeping your hull light, clean and free of single-cell organisms like algae (which help keep away barnacles and other marine life that feed on the algae).
Here's how it works:
1) Using ultrasonic transducer technology, the Sonihull produces multiple bursts of ultrasonic energy simultaneously in various frequencies, which creates a pattern of positive and negative pressure.
2) Microscopic bubbles form from the negative pressure, and the positive pressure implodes these bubbles, resulting in a micro-jet action that provides the cleaning pressure to the hull.
Simple enough, right? In reality, ultrasonic cleaning technology has been around 30+ years, and has been used to clean medical and dental equipment, jewelry, and automotive parts.
And a clean hull saves you up to 30% on fuel costs, compared to a heavier, algae / barnacle-covered hull. So something like this may be worth looking into.
The Flir AX8 Marine Thermal Monitoring System Lets You Safely Monitor Your Engine Room from Anywhere
Using advanced thermal technology, the AX8's camera allows you to remotely keep a watchful eye on critical components in your engine room. If temperatures of machine parts rise above safe levels, alarms will alert you and send you visual information as to which component is overheating.
With the aid of this camera, you'll be able to spot problems before they become a safety hazard or damage equipment. MSX imaging technology blends both regular images with thermal images, better allowing you to see what's going on.
The Iris NightPilot Allows You To See Like A Bat Hawk In The Dead Of Night
The UK-based Iris produce marine security and thermal cameras. At this year's FLIBS, IRIS had their brand-new Nightpilot Thermal Imaging System on display. The NightPilot is capable of identifying vessels nearly a mile and a half away, and people (such as in a man-overboard situation), more than half a mile away, even in complete darkness.
The thermal core allows you up to an 8x zoom, and changeable color pallet helps you see in difficult environmental conditions. When in gyro mode, the camera's inner dome uses an advanced quick motor system, which allows a complete 360 degree movement in under a second, and counters the motion of waves to provide you with a still visual. Overall, a very powerful night camera, as well as an attractive addition to your yacht.
_____________________
About the author: David Carreras is a writer for Citiguide, a blog with marine news, guides and product reviews on citimarinestore.com.