Why not arrive a day or two early for your Luxury Yacht Charter St. Thomas? Take a chance to spend some time on the island before you set sail, you can enjoy the islands beauty and sights, as well as savoring the delicacies at some of the great restaurants that the island offers. We've put together our top three restaurants which you must try on St Thomas.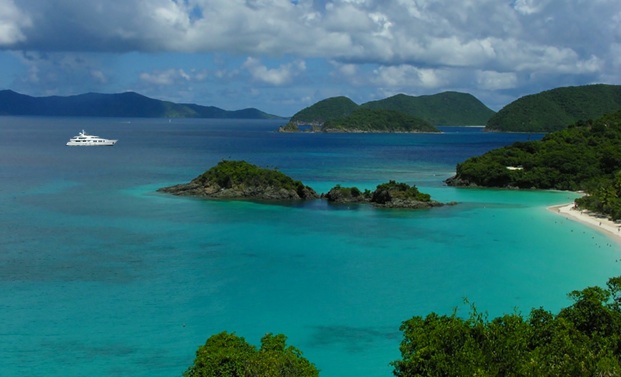 The Old Stone Farmhouse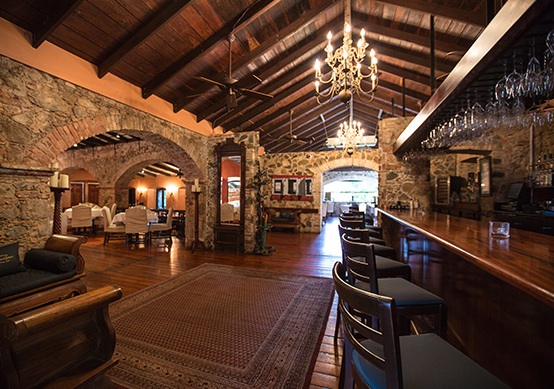 Located on the North shore and overlooking Mahogany Run Golf Course, The Old Stone Farmhouse is set in the centuries old field house of a restored Danish Sugar Plantation, which is perfect for a special occassion treat while visiting the island of St. Thomas.  The menu features seafood, steaks that are hand cut to order specified by the guest, and vegetarian dishes inspired by French technique and local Caribbean ingredients.  This is the perfect blend of historic ambiance and cutting edge cuisine.
They also offer an award winning wine program and have an extensive list of wines by the glass.  The prestigious wine list includes selections from the Park B. Smith Collection so you can be sure to enjoy a good drink there too.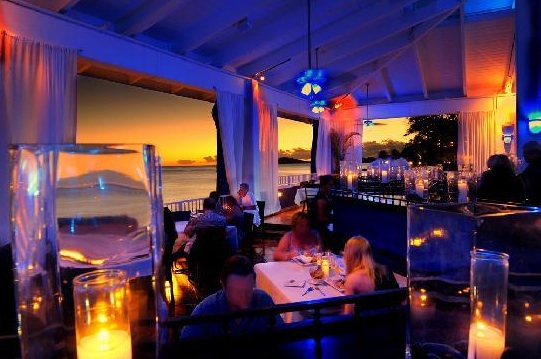 "One of the Top 5 Beachside Restaurants in the Caribbean" – Caribbean Travel & Life
Havana Blue, where Latin American meets Pacific Rim. Brace your senses for this experimental dining in a beautiful ocean front setting.  The gorgeous dining room has floor to ceiling fabric sheets set against 20 foot open windows that capture the trade winds, while hundreds of candles reveal everyone in their best light.   Make it a night to remember and start your evening off with their signature Sapphire Blingtini which features Belvedere Vodka, a stunning GIA certified loose 1ct Sapphire stone and an edible silver flake rim.  Taste the culinary artistry with Creative Cervices, Bocadillo Lettuce Wraps, Lemongrass Glazed Sea Bass, Tuna Trinity, and end the with a night with a tableside presentation for two of the Flaming "Sweet Plantain" Fosters.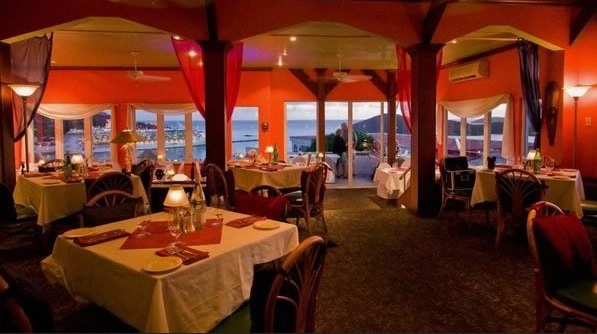 Situated in a charming Caribbean house-like structure, this posh restaurant is nestled in the hilltop above Charlotte Amalie and has stunning views of the harbor below.  Arrive before 6:00pm to watch the cruise ships head out of the port while sipping a delicious cocktail at the bar. Banana Tree Grille is a popular steak house that also specializes in eclectic cuisine.  With as many seafood options as beef, their selections such as Imperial Crab Stuffed Grouper and Black and White Sesame Tuna are some of the local favorites.  Make sure to order their signature bread basket of crispy homemade ciabatta bread with garlic and olive oil accompanied by a creamy gorgonzola dip.  If you saved room for dessert be sure to try their famous Key Lime Pie.
Boatbookings.com
can assist you with creating custom itineraries, selecting the perfect yacht and crew for a holiday of a lifetime. 
Contact us
for your customized yacht proposal today.