This week we bring you something completely new, and an incredible opportunity to charter one of the largest and newest Sunseekers on the water this summer! THUMPER was launched in 2014, and at 40.05 metres she has everything you could ever want for your perfect charter vacation. With a "Miami beach club" style with specially commissioned artworks she is a truly unique yacht, and to go with it THUMPER has obtained a Spanish charter licence for summer 2015! Her very proud new owners will offer the floating paradise for charter at both the Cannes Film Festival and the Monaco Grand Prix before she blazes her way to the glorious Balearics in time for the buzz of the season in Ibiza!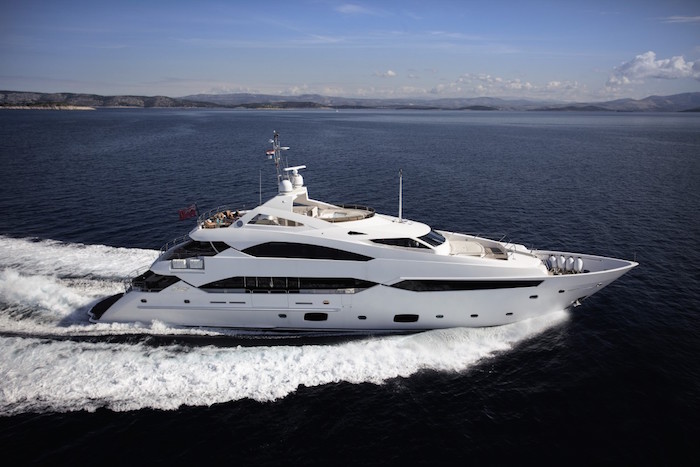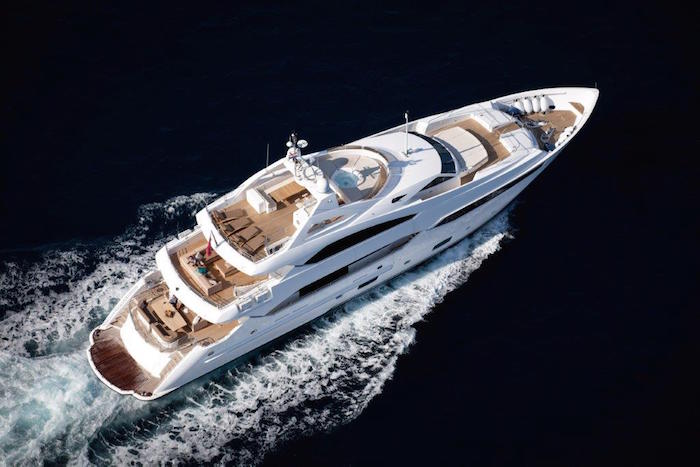 Outside THUMPER offers all the space you'd expect on a world-class luxury yacht of her size, with the addition of what is becoming a Sunseeker trademark: the ever-popular folding balcony. These not only provide you with an immense feeling above the water, but extend the already expansive exterior space. With various dining and lounging options you are spoilt for choice, but our favourite spot for the charterer seeking a welcome dose of privacy is the bow where you can enjoy panoramic views as well as complete isolation.
Inside the beach club feel is a pleasure to all the senses, with various textures and splashes of nautical colour to ensure you feel right at home. Unique artworks and statement fittings add that all-important touch of individuality and exclusivity. Five cabins accommodate up to 10 guests in a beautiful master suite, two further doubles and two twin cabins, all with ensuite bathrooms.
THUMPER offers everything you need for a successful charter, whether you're taking a vacation on the ever-popular glamour capital of the French Riviera or heading to the hedonist heaven of Ibiza. Her incredible unmistakable Sunseeker styling means she's guaranteed to stand-out! THUMPER is a finalist for the 2015 SuperYacht Design Awards and rightly so, we think she's mesmerising inside and out. Contact the Boatbookings team today for more information.