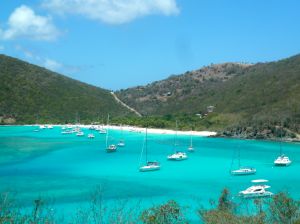 Part  2 of the exhilarating, snorkeling hotspots blog brings us to the picturesque Andros Island in the exotic Bahamas. Charter a luxury yacht in the Bahamas and visit one of the best snorkeling destinations in the world. Andros Island is an archipelago within the Bahamas and has an area greater than all 700 Bahamian islands combined. The island boasts the greatest botanical and marine life diversity than any other island in the Bahamas and possesses the third largest barrier reef in the world.
The marine biosphere of Andros Island is truly astonishing, an abundance of mangrove swamps, ocean craters, shallow sands and tidal streams form a rich and prosperous marine life. The island's sprawling coral reef is made up of oceanic craters and vertical caves creating a rich dark and light blue ocean. Dean's Blue Hole on Long Island in the Bahamas is the deepest oceanic crater known to man.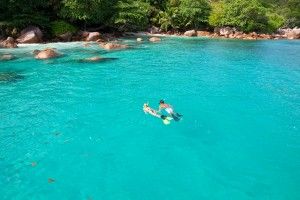 Andros Island boasts the best snorkeling and deep sea diving in the whole of the Bahamas. Marvel at the majestic humpback whales following their yearly migration route or the pilot whales that frequently visit these warm and inviting shores. Stingrays frolic in the shallow waters, swarms of French grunts scurry across the ocean floor and Caribbean reef sharks lurk in the depths. Sea turtles, grouper, snapper and even bottlenose dolphins can be admired in the crystal blue water that engulfs Andros Island.
AT LAST is a luxurious motor yacht berthed in the Bahamas. She boasts 5 lavish and well-furnished cabins suitable for 10 guests.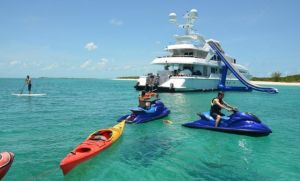 AT LAST has a well designed water-jet system and a very low draft (1.68 meters) which makes her ideally suited for chartering in the Bahamas. Spacious decking, en suite bathrooms, Jacuzzi and an incredible array of water toys make this a luxury charter to remember.
At Boatbookings,we organise luxury yacht charters all around the world with our highly qualified team. We leave no stone unturned in matching not just the yacht and the destination to your requirements but also the crew, itineraries and all other subtle aspects that comes together to create a charter of a life timekids inflatable obstacle course!