Golfe Juan has an excellent harbour, which, as a start point for your charter,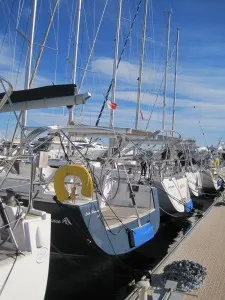 opens up a whole world of opportunities along the French Riviera. From here, you can reach Cannes, Monaco, St Tropez… The world is your oyster! For more information on Golfe Juan, please see our blog on her here. 
The sailboats available in Golfe Juan are fantastic. We have a range of models for bareboat charter, which are all in immaculate condition. If you are a large group looking to charter, one of the best we can offer is the Hanse 470. We have both a 2007 and 2010 model, which can sleep up to 7 guests in 3 cabins. The interior is bright and airy, with plenty of light coming in, and with clean-cut and classy furnishings. Furthermore, as this model is longer, there is more deck space for any sun worshippers, so you can relax while sailing down the French coast. Starting from 2,500 € per week, a Hanse 470 is a great choice for a group of friends looking to sail the seas!
At www.boatbookings.com, we welcome everyone from sailing professionals to complete novices and will help you at every step of the way to make your dreams a reality. We have a team of highly skilled professionals who are extremely knowledgeable in their destinations and will be able to help you with any questions you may have.
Watch this space for the latest industry show releases, news and gossip in the yachting world. If you liked the content on this page and our previous posts, please become a fan and like our Facebook page to receive up to date information on our publications. Follow us on Twitter and Google Plus too.