St Raphael is in prime position on the French Riviera, where you can sail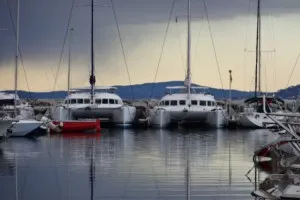 to St Tropez within an hour, and easily within sailing distance of the glamour of Cannes, and even Monaco. The port is exceptional, with plenty of yachts of all shapes and sizes to see. Along the quay, there are numerous restaurants to visit before and after your charter, and nearby there is a great supermarket for all of your provisioning needs. For more information about a yacht charter on the French Riviera, please see here.
This morning, we visited some of the newest and hottest catamarans for bareboat charters, including the fantastic Lagoon 380 and brand new Lagoon 450! The catamarans shown in the photo above are Lagoon 410 S2 (left) and Lagoon 380 (right). We were extremely impressed with all of the yachts available, especially the Lagoon 400, 380 and 450.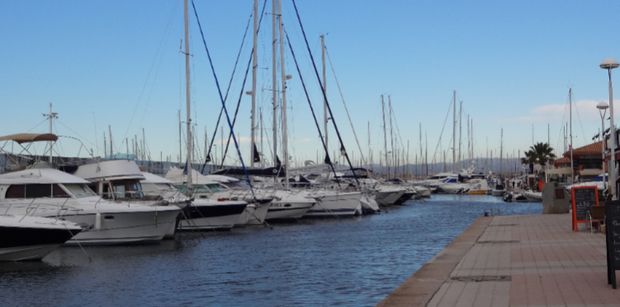 The interior of the Lagoon 450 reminded us of larger luxury yachts, with a Bose sound system, a beautiful flybridge, and an extremely spacious interior. For a list of yachts available in St Raphael, please click here.
At www.boatbookings.com, we welcome everyone from sailing professionals to complete novices and will help you at every step of the way to make your dreams a reality. We have a team of highly skilled professionals who are extremely knowledgeable in their destinations and will be able to help you with any questions you may have.
Watch this space for the latest industry show releases, news and gossip in the yachting world. If you liked the content on this page and our previous posts, please become a fan and like our Facebook page to receive up to date information on our publications. Follow us on Twitter and Google Plus too.