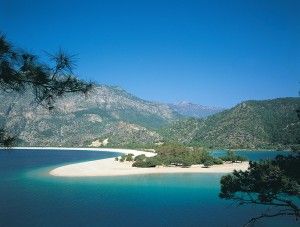 Turkey's Mediterranean coast, often known as the Turkish Riviera or the Turquoise Coast, is nearly 1600km long, inviting you to experience the favourable climate and warm sea with fine-sand beaches scattered with sights of old cities which have now become picturesque ruins. As you look at the coast from the sea, not only will you see the beautiful beaches, but a background lined with the Taurus Mountains, which drop right to the sea. What better way to enjoy these stunning views than from your luxury yacht?
Explore the beautiful blue south-western coast of Turkey from your luxury yacht. Experience the 'Blue Cruise', travelling along the idyllic coast and clear waters of the Turquoise Coast. A Blue Cruise will take you through the Turkish Riviera, at a slow speed which will allow you to relax on your holiday, as there is no rush! Visit ancient ruins,
pretty ports and secluded bays, and take the chance to soak up the rays in the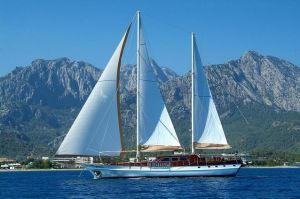 Mediterranean sun, or get in to the water for a spot of swimming and snorkelling. Places visited on a Blue Cruise are very likely to involve Bodrum, Gocek and Marmaris, as these three places are often the start and finish points for a cruise around the Turkish Mediterranean Sea.
So, if you are interested in a Blue Cruise, how about chartering ARABELLA, a luxury gulet. Given gulets are the original boat for a Blue Cruise, ARABELLA, a 6* ultra luxury gulet is definitely the way to do a Blue Cruise in style. With four double cabins, she is the perfect choice for a family holiday, especially if you are two families who are looking for the chance to go on holiday together. With 6 members of crew, they will make sure that you are well looked after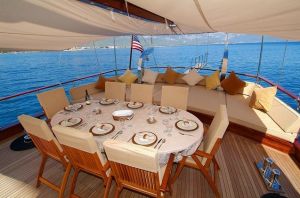 on your Blue Cruise, serving some of the best food available on a gulet in Turkey.
More about Gulet Charters in our Guide to Blue Cruises and Gulets in Turkey. Looking to charter a yacht? Head to Boatbookings.com, the leading online yacht charter broker, and search through over 8000 yachts.
Watch this space for the latest industry show releases, news and gossip in the yachting world. If you liked the content on this page and our previous posts, please become a fan and like our Facebook page