Bodrum, Turkey Best Charter Yachts and Gulets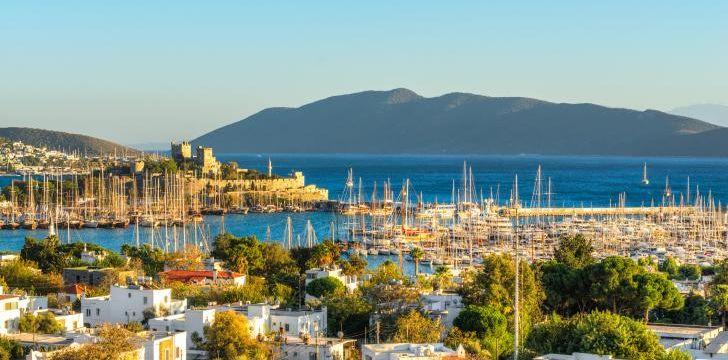 Boatbookings' curated selection of the Top Charter Yachts and Gulets in Bodrum, Turkey
Bodrum is the center of the Turkish Gulet and Blue Cruise area, a very popular starting place for sailing charters in the Aegean Sea. It was called Halicarnassus in Ancient Greek times and was the site of the Mausoleum of Mausolus, one of the Seven Wonders of the Ancient World (which unfortunately was destroyed by the Crusaders in order to build Bodrum Castle).
Bodrum has a large, protected harbor overlooked by Bodrum Castle, which houses a fascinating museum of its incredible history. The harbor is generally full of a stunning array of Gulets and sailboats and offers plenty of restaurants and seaside cafes. Bodrum is easily reached from Istanbul and many other European cities, as it has an international airport 20 minutes inland. Read more in-depth information about Gulet charters here.
Bodrum is a great starting point for any charter in the southwest region of Turkey and has a wide range of boats to meet your specific needs. You can even get involved in one of the only regattas in Europe where passengers are allowed on board and can double as crew. The Bodrum Cup Regatta happens every October and they even have a prize for the best fancy-dressed crew!
Below is our selection of the best yachts and gulets out of Bodrum. We select them based on continued high customer satisfaction and consistently great reviews. Feel free to contact us at any time so that we can find the perfect yacht for your needs.
Sort through the charter yachts below or use these handy links to quickly find the yachts that best fit your needs:
Motor Yachts: Crewed
Monohull Sailing Yachts: Bareboat (inc. Bareboat with Skipper) | Crewed
Catamarans: Bareboat (inc. Bareboat with Skipper) | Crewed
Yachts for Special Events: Motor Yachts | Sailing Yachts
User Ratings: Top-rated yachts
Other Articles of Interest
Charter destinations