The Bladerunner RIB 35 used by David Beckham to enter into the London
2012 Olympic Games carrying the Torch, has failed to reach its reserve at auction, we can confirm. The vessel was expected to fetch somewhere around £250,000 at auction, something which did not, unfortunately, take place.
The Bladerunner was used by David Beckham, soccer player of LA Galaxy and advocate to London 2012, to carry the torch down the River Thames and under Tower Bridge, on its journey from London City Hall. The RIB was manufactured by Hampshire based Ice Marine.
The bidding of the vessel, for such Olympic paraphernalia, was expected to reach £250,000 (around $400,000) at auction, but that price only managed to reach around £180,000.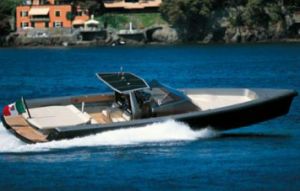 Spokesman Julian Roub said, "It was a very busy sale but the item was fairly highly priced and there was insufficient interest on the day.
"It may sell in a post-sale deal."
If you're looking to charter something similar, why not go for the fantastic Wally Tender 45, a great motor boat for day charters out of St Tropez and Cogolin. She is sleek and powerful with two 320 CV engines. She charters for between €2,200 and €2,500 per day.
Looking to charter a yacht? Head to www.boatbookings.com, the leading online yacht charter broker, or email us at [email protected] and one of our Charter Specialists will get back to you shortly.
Watch this space for the latest industry show releases, news and gossip in the yachting world. If you liked the content on this page and our previous posts, please become a fan and like our Facebook page to receive up to date information on our publications.