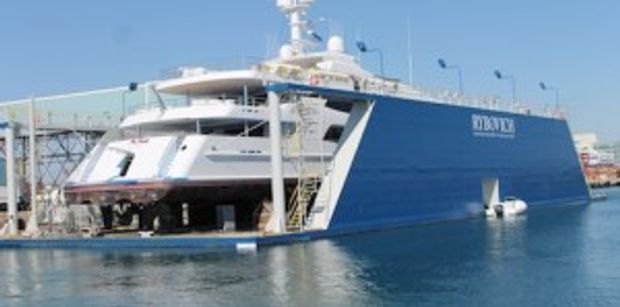 Whether it is a 30ft monohull or a 300ft super yacht. the maintenance of any vessel is paramount to ensure maximum comfort, safety and enjoyment for charter guests on board. The logistics of boat repairs are often troublesome and costly for any yacht but even greater for a super yacht, due to their size and weight. However, super yacht owners will be happy to hear there is now an easy way to maintain their yacht, thanks to the new 3000 ton Rybovich floating dry dock in Palm Beach, South Florida. The centre is aimed to help yacht owners to conduct routine maintenance of their vessels and is ideally situated for the yachts to be in the very best condition for their Christmas charters in the Caribbean.

The first vessel to use the Rybovich floating dock was MI SUENO, a stunning 57.5m [190ft.] Trinity Yacht. She is luxurious in every regard and provides grandeur, as well as all of the latest technology and modern fittings that you would expect on a super yacht. She serves her summer season out of  Monaco and makesthe ideal choice for a special charter along the French and Italian Riviera's. She accommodates up to 12 guests in 6 beautiful staterooms, including a master suite which is split over two levels, offering great space and style.

Captain Glynn Smith was excited to find that the opening of the dock coincided with his schedule and was extremely happy with the service: "Rybovich achieved a flawless lift that seemed so routine as if they had been doing it for many years.  This is a great step forward for the superyacht service industry in South Florida" The new centre is sending positive waves around the whole industry and has been called a 'transformational event' by the Rybovich president. They believe that the centre will attract a large number of super yachts to the area and thus improving the area.
For more information on how to maintain your boat, including how to make the whole process more impressive and efficient, please check out our posts. Watch this space for the latest yachting trends, destination information and gossip. To enquire please visit our website or send us an email at [email protected]