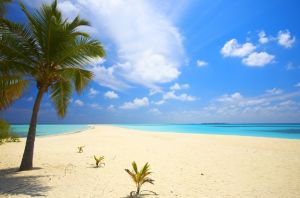 The Maldives is one of the worlds ultimate luxury destinations, perfect for honeymooners, sun worshippers and divers. Consisting of 26 atolls, the Maldives are a series of ancient coral reefs that provide some of the best beaches and waters on earth. The way of life is simple and peaceful, allowing guests to fully relax and enjoy the bright blue skies and yearly sunshine.
Facts and Figures:
360,000 Residents
11,000 Displaced since the Tsunami
27% Live in Malé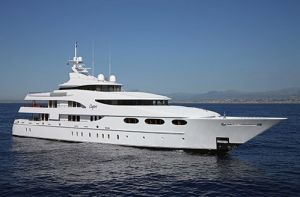 90,000 Sq km Area
0 Shark attacks since 1976
The best time to visit Malé is from December with an average temperature of 28 degrees and the lowest precipitation levels, making Christmas the ideal time to visit. Malé is the busiest of all the atolls and the business centre of the Maldives, yet is worth a visit to get a taste for the Maldivian way of life. The numerous bars, restaurants, shops and busy markets create the same buzz that you would find in any other capital city. We would recommend the Whale Submarine for those with children, as it provides a great place to look at the reef and everything that lives below. If you are interested in diving, there are a number of great dive schools and sites just a short boat trip away.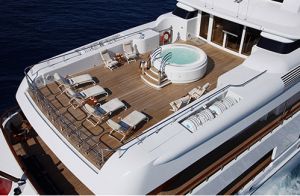 Why not incorporate one of the worlds leading luxury destinations with the one of the worlds greatest experiences – Yachting! One of our favourite Luxury Super Yachts that is available this Christmas is CAPRI, a 58.5m Lürssen with 6 magnificent staterooms, as well as some of the best outdoor entertaining spaces on the market. Her full beam master stateroom is furnished beautifully with a combination of dark wood and cream fixtures and fittings.  The decor in the saloon is much lighter, thanks to full length windows and this minimalistic approach continues on her decks, where guests will find a large jacuzzi with plenty of sunbathing areas. If you are interested in sport, CAPRI features a fully equipped gym, including a multi gym and plenty of water toys for the whole family. She is available in the Indian Ocean this winter, so don't miss out on the opportunity to charter her in either the Maldives or the Seychelles.
Watch this space for more information on the best places to charter a yacht, including details itinerary plans and recommendations. If you would like to enquire about chartering any of the yachts listed here or before, please follow the links or send an email to [email protected]. We would love to help you organise the experience of a lifetime on board a luxury yacht!