Experience is Just as Important as Talent
If you're considering building a new yacht for charter service, or thinking about refitting the one you have now, you might think carefully about the team you employ to plan and manage the work. The successful completion of a new construction or major refit project requires understanding what is within the realm of possibility to accomplish, and what is not. Raw talent often embodies vision and creativity, but concepts do not on their own turn into reality, especially on the shipbuilding shop floor. One major pitfall into which many new build and major refit projects step is setting off in pursuit of objectives that will take way too long, and cost way too much to achieve — if indeed they can ever be achieved at all.
I remember one large-yacht build project, to which I came as a project consultant/manager after it was begun. The development of the project was stalled because the initial concept called for a semi-displacement hull to be matched with a quite voluminous tri-deck superstructure. The naval architects involved were very talented and visionary, but in the relatively early stages of their careers. They had not been able to secure classification society approval for the design because of the yachts calculated stability curve. And out of frustration, the buyer/owner was preparing to walk away from the deal.
Looking at the parameters for speed and range, I determined that if the buyer would accept just three knots less top speed, we could switch to a well proven full displacement hull form, from a noted European N.A. firm, which hull form would handily satisfy the classification society's requirement for stability, without any compromises as to the vessel's general arrangement (GA) or other critical factors. I made the suggestion at a late night meeting of all parties, secured approval from the buyer, and released the original naval architects from further employment on the project.
Flying home from the meeting, I found myself sitting on the plane next to the naval architects in question. To say the least, they were unhappy and defensive, saying that they had not anticipated the problems we were having securing classification approval for the design of the new yacht, in respect of its projected stability. I explained to them that they were not being paid simply for what they did, but more importantly for what they knew. The hard truth was, and remains to this day, they should have known putting a tri-deck superstructure on the semi-displacement hull form variant which they had, admittedly, used previously with success, would cause issues in regard of stability. The fact was they should have counseled all involved, right from the beginning, that a switch to a full displacement hull form was the way to go. Instead, their lack of sufficiently broad experience, and their failure to identify a critical potential roadblock, had delayed the project several months, and almost killed it entirely.
Obviously, talent and enthusiasm are what breathe excitement and life into a developing project. They are what motivate buyers and owners to build yachts and undertake major refits in the first place. But all the talent in the world cannot deliver a properly completed yacht within budget and on a reasonable time schedule — without the experience needed to keep the project from heading down avenues that are very likely to be dead ends. In the main, yacht building is the creative realization of the possible, which, I submit, makes experience just as important as talent. And you can take that to the bank.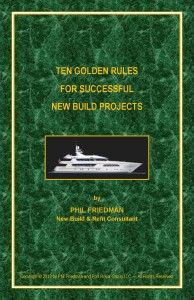 NOTE: This post is adapted from Phil Friedman's recently published eBook, Ten Golden Rules for Successful New Build Projects. Comments on the eBook by noted industry professionals have included:
From Stephen Moon (Board Certified Admiralty and Maritime Law Specialist, Stephen M. Moon, P.A., Cocoa, FL, USA): "Your e-book is excellent. I should have been doing a lot of other things this morning but I could not resist reading the e-book as soon as I had a break… Your remarks are very insightful and will be appreciated by many. I have a much better understanding of the events leading up to the actual build process and the  important issues to consider before construction now. Your e-book is a quick, must read for anyone involved in a new build project or major refit."