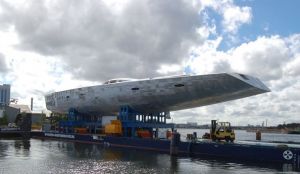 The hull of the new Super Yacht Y3 designed by Dixon Yacht Design has just arrived in Holland for the next steps in its construction. The team at Dixon are all highly trained, very experienced and loyal to founder Bill, who started the company 27 years ago. Bill's team have grown and are now one of the world's leading yacht design studio's, as well as one of the most revolutionary and forward thinking. Y3 is a luxurious 45m Sailing Yacht, which is set to be launched in 2014.
Technical Specifications of Y3
Design – Dixon Yacht Design
Interior Design – Rhoades Young
Length –  39,57 m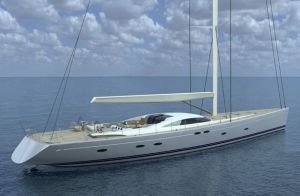 Beam – 9.00 m
Draft 5.9 m – 3.9 m
Displacement – 196 ton
Launch Date – 2014
Y3 has been delivered to Holland Jachtbouw, a quality custom Superyacht builder who build both sailing yachts and motor yachts in the Netherlands. Holland Jachtbouw (HJB) also refit sailing and motor yachts of the highest calibre. The yachting company was established back in 1990 and is located at the heart of the Dutch yacht building industry close to Amsterdam. The team at HJB are dedicated to innovation, quality and cost control. They have a state-of-the-art workshop facility where Y3 will be completed before being sent to Rhoades Young for internal and external design.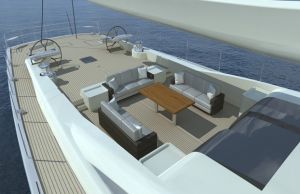 Rhoades Young are a leader in interior and exterior super yacht design, whose aim is to "to deliver creative design that is driven by experience and passion to create true luxury yachts which are destined to become classics of the future." The concept designs show that Y3 will have contemporary features, with light teak decks and soft furnishings. We believe that she will be a very sociable yacht, perfect for entertaining friends and family, whilst sailing some of the most beautiful parts of the world.
If you would like to find our more information on futuristic yacht designs, please watch this space. To find out more on how to charter a luxury yacht and see more Super Yachts, such as Y3, please do enquire via our website or send an email to [email protected]. Watch this space for the latest yacht trends and designs, as well as charter and destination information.