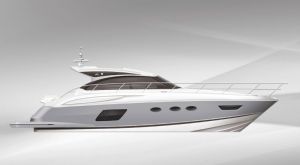 Prestigious yacht manufacturer Princess is set for an exciting year in 2013 with the launch of a new V48, a 52 Flybridge, 82 and 88 motor yachts to their range.  The new V48 is the biggest new development, with the introduction of Volvo's IPS system, which is set to dramatically increase fuel efficiency, speed and onboard comfort. The IPS system is truly remarkable and boasts impressive performance, which include the following:
• 30% reduced fuel consumption
• 30% less CO2 emissions
• 50% lower perceived noise level
• 40% longer cruising range
• 20% higher top-speed
The model will feature triple sliding cockpit doors and a large electronically retractable panoramic sunroof, leaving guests open to elements and maximising light onboard. She will feature 2 double cabins, both with en suite, as well as a spacious galley and saloon area.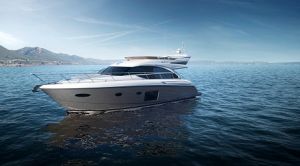 Princess's new 52 Flybridge model is an excellent replacement for the outgoing 50, having been inspired by the Princess 56, which was recently seen at the Southampton Boat Show. She features the brands trademark pane of glass, which floods light into the master cabin and the yacht below. The new 52 is set to be much more spacious than her predecessor, as well as offering great performance thanks to resin infusion technology, which reduces weight, increasing speed and fuel efficiency. Resin Infusion Technology is a specialized laminating technique, which greatly improves the quality and strength of fibre glass parts, in comparison to normal hand lay up parts. This creates the optimization of a part in terms of strength and durability. She would be a great choice for a luxury day charter yacht, featuring a large U-shape seating forward faced by a two-person sofa, making her a very sociable vessel.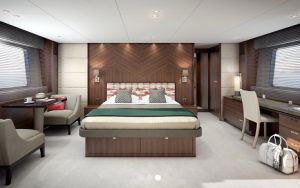 The new Princess 82 motor yacht epitomises sleek lines, spacious interiors and impeccably appointed exteriors. She has extended window lines, which give a sporty and sophisticated feel to the yacht, whilst providing natural light throughout the yacht. Her interior is light, sophisticated and beautifully detailed with an intelligent use of space throughout.  The main deck saloon incorporates comfortable furnishings and a formal dining area, which is separated from the wheelhouse and highly, specified galley to ensure guest privacy, particularly important for owners with crew or chartering intentions.  She is a great choice for family charters with her 4 beautifully appointed en-suite cabins. The master cabin is modern, yet elegant, with a great mixture of dark wood and soft furnishings.
The Princess designers of the 88 have once again excelled in creating exterior and interior spaces that are generous in size, exceptionally well finished and incredibly flexible whether entertaining or relaxing.  For the first time on a Princess of this size, a powered balcony can be specified which folds neatly from the starboard side deck, connecting the saloon with the anchorage through sliding glass doors and the lower deck accommodation is also wonderfully versatile providing owners with the choice of four or five en-suite cabins to suit their needs. The Princess 88 promises to be yet another class leading model from the brand when she launches in 2013.
We have a great range of Princess yachts available from ports all around the Mediterranean. If you would like to charter a Princess yacht from the French / Italian Riviera, Greece, Spain or the Balearics, please enquire via our website or send an email to [email protected]. Watch this space for more press releases and news on industry shows.