The countdown to the 52nd Genoa International Boat Show has begun. With more than 1,400 boats on show over the coming week, this year's event promises to be bigger than ever. The Show is organised by Fiera di Genova SpA and UCINA (Italy's professional association of the yachting industry) and is set on a 200,000 square-metre exhibition area that includes parts of the old town and port of Genoa.
Due to Genoa's prominence in the ship and yacht building industry, and the popularity of nautical tourism along the Italian Riviera, the 1st International Boat Show took place in January 1962. With more than 300,000 visitors that year, it was an instant success and has continued to draw huge crowds ever since. This year's Boat Show will offer a wide range of sea sport opportunities for younger visitors and features a wonderfully-planned itinerary that is devoted to Italian sea sport and local Genoese boat building traditions. The Show will be open every day next week (Saturday 6th – Sunday 14th October) and will feature a special entertainment programme for the public on its opening evening.
Visitors do not only marvel at the many yachts on show but can also browse through the many stands exhibited by more than 900 companies selling ship components, accessories, motors, electronics and water sports equipment.
One company that is ever-present in Genoa is the Azimut Benetti Group, who have always had a particularly strong relationship with the organisers of the Boat Show. Such is their relationship that this year Azimut Benetti will have the highest number of motor boats on show exceeding 10 metres.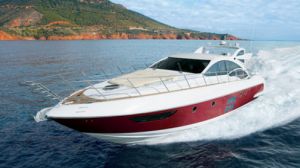 Included among the 26 Azimut Benetti boats on show is the fantastic Azimut 62S. In 2007, the 62S was voted "Boat of the Year" by the British boating pressin for the over -45' sport cruiser category, while she also won European Boat of the Year at the Dusseldorf Boat Show.
Boatbookings is lucky enough to have two of these luxury crewed motor yachts for charter in the beautiful island of Sardinia, just off the coast of Italy.
If you are interested in chartering a yacht in the Italian Riviera then please have a look at our website or send an email to [email protected].