The crew of JAMBALAYA invite charter clients aboard to discover Saint Vincent and the Grenadines, an island country in the Lesser Antilles chain. This alluring Caribbean region offers exciting adventures, captivating land and water activities, outstanding natural beauty and very friendly and welcoming people.
DAY ONE: Young Island to Bequia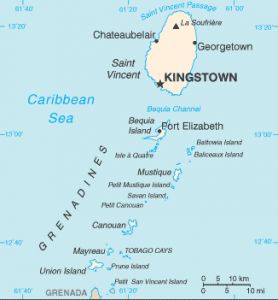 Set sail from Young Island to Bequia, the largest island in the Grenadines and an easy 1.5-hour run. There are several wrecks and shallow caves accessible to advanced divers. Besides many species of parti-colored fish, snorkelers can view Hawksbill turtles, lobsters, even spot a moray eel. Swim in the sparkling, turquoise sea then relax on deck for cocktails and dinner. For nightlife ashore, visit the Frangipani and dance to the rocking rhythm of steel drums.
DAY TWO: Princess Margaret's Bay
Swim and breakfast while anchored off the pristine beach of Princess Margaret's Bay. Dingy ashore to explore this exquisite little island with its shops and bars encircling the harbor front, strung together by a beach and a path. Enjoy a superb lunch on board and then spend a relaxing afternoon of swimming, sunbathing, snorkeling or canoeing.
DAY THREE: Princess Margaret's
Bay to Mustique
Depart from Princess Margaret's Bay on a delightful two to three hour sail to Mustique, a famously idyllic island with magnificent beaches and several coral reefs. Mustique has attracted many celebrities over the years from Queen Elizabeth II to Amy Winehouse. Traverse pristine beaches and hilly woodland on foot or horseback, or laze under a coconut palm hut at Macaroni Beach, #14 of the World's 21 Sexiest Beaches according to The Travel Channel. Then go for cocktails at internationally renowned Basil`s Bar, or the Firefly, or Cotton House.
DAY FOUR: Mustique to Tobago Cays
Sailing to the Tobago Cays entails a captivating four-hour, off wind ride that passes Canouan along the way. This is an excellent opportunity for the fishing enthusiasts on board to bait a line. Drop anchor in the arms of the horseshoe reef surrounding the Jewels of the Grenadines and spend a thrilling afternoon snorkeling over brilliant corals teeming with fish. Take a dinghy expedition to Jamesby to bask on the pristine white sand beach.
DAY FIVE: Tobago Cays
Spend a leisurely day relaxing in the Tobago Cays, an intimate cluster of five uninhabited cays. This idyllic yachting anchorage is a dream for scuba divers, a paradise for beachcombers, and a film location for Pirates of the Caribbean. Tobago Cays Marine Park is one of the world's most awe-inspiring island destinations. Swim with the turtles off Baradel, or snorkel on the south side of Petit Bateau among fantastic coral and really big fish. Kite surfing enthusiasts who usually launch from Petit Rameau and sail upwind to the inner edge of Horseshoe Reef revere these cays. Back on the yacht, the chef will prepare a gourmet selection of local produce and fresh seafood for a sublime dinner pared with a perfect wine.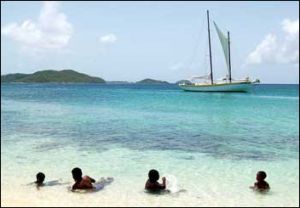 DAY SIX: Tobago Cays to Petit St. Vincent
In takes just an hour sailing time to reach the private island of Petit St. Vincent. En route stop at miniature Mopion Island to do a bit of beachcombing and indulge in a refreshing swim. Most visitors to Petit St. Vincent come for the tranquility. Yet, if you are feeling energetic there are walking trails, superb fishing, snorkeling, scuba diving, and kayaking.  The Petit St Vincent Resort features a spa as well as a lush garden bar with adjacent wine cellar, perfect for a celebration of the sunset.
DAY SEVEN: Petit St Vincent to Union Island
Sail to the final destination of Union Island, passing close to scenic Palm Island. Union Island is a breathtakingly beautiful place to swim, snorkel, dive, sea kayak, sunbath, read or stretch your legs on a hike. Dinghy over to Happy Island that is entirely made of conch shells. Then head back to the yacht to relish an amazing Creole dinner, a chef's specialty.
DAY EIGHT: Union Island to Young Island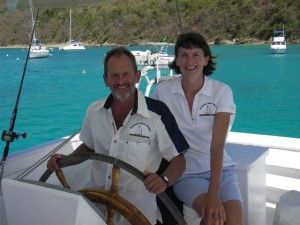 Enjoy a leisurely breakfast and then an excursion to visit to the town before bidding a fond farewell to Clifton Harbour, Union. Set sail for Young Island capturing final memories of the beauty that surrounds you to treasure until your next charter vacation in the spectacular Grenadines.
Follow this link for details about chartering JAMBALAYA.
Please visit St. Vincent and the Grenadines Yacht Charter Guide and Eco-Sailing Vacations and Eco-Yacht Charter in Grenada, St. Vincent and the Grenadines.