Grenadines Eco Sailing Vacations and Yacht Charters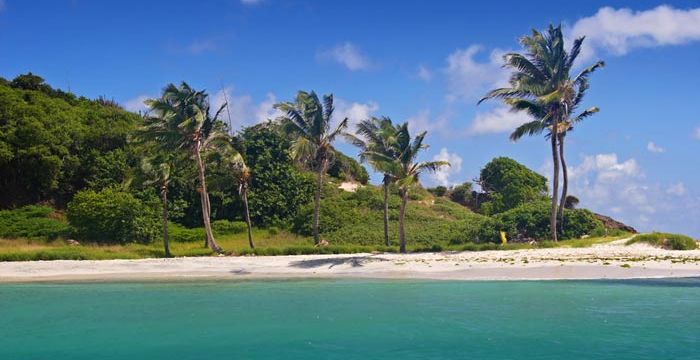 Eco-Sailing Vacations and Eco-Tourism Yacht Charters in Grenada, St. Vincent and the Grenadines
About Grenada, St. Vincent and the Grenadines | Christmas Sailing Vacations in the Grenadines | Grenada | St. Vincent | The Grenadines | Our Grenadines Charter Yachts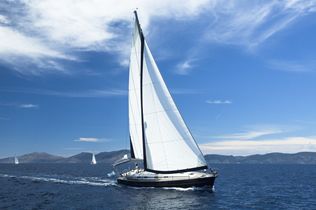 GRENADINES CREWED SAILBOATS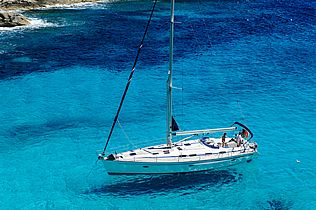 GRENADINES BAREBOATS
Grenadines Charter Overview
St Vincent and the Grenandines are a group of islands that make up one country in the Windward Islands of the Caribbean, world renowned as a yacht charter destination. A Grenadines charter provides you with an almost perfect setting in the warm Caribbean during the winter months.
About Grenada, St. Vincent and the Grenadines
St. Vincent and the Grenadines are some of the most beautiful and unspoiled islands in the world, ideal for eco-adventures and sailing holidays where you explore nature while in harmony with the environment. They include 32 islands and cays (pronounced 'keys', meaning little islands) stretching south from St. Vincent to Grenada. Only 9 of these are populated.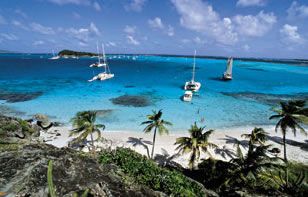 All the islands are volcanic, with deep bays and inlets where clear aquamarine waters lap on fine white-sand beaches. The uninhabited islets and rocks include the famous, breathtaking, Tobago Cays, Mopion, Carriacou's Sandy Island, Mabouya and White Island.
There is a clear focus in the Grenadines on protecting natural beauty and tranquility by way of national parks and conservation areas. (There is also a rule throughout most of the Grenadines prohibiting the use of jet skis.) Hikers, birdwatchers and nature enthusiasts will find amazing places to explore. Divers will appreciate the amazing variety of tropical fish in the shallow-water reefs around the Grenadine islands. Visitors may be treated to seeing some of the six kinds of dolphin (including spinner, spotted, Fraser and bottlenose) or to watching the Orca and pilot whales that inhabit these waters.
Christmas Sailing in the Grenadines
Boatbookings was featured in a New York Times Article about Sailing the Grenadines during Christmas:
Spend a week sailing around St. Vincent and the Grenadine Islands, where rain forests, protected coral reefs and crater lakes are far from extinct. Be sure to pull into port at St. Vincent between Dec. 16 and 25 when the whole island celebrates Nine Mornings, -a predawn indigenous festival. Tourists are welcome to partake in the many activities, which include sea baths, story telling, street dancing and calypso competitions. Consider sailing through the Grenadines, featured in the film "Pirates of the Caribbean," and anchoring for lunch at Petit Tabac, the beach where Sparrow, the character played by Johnny Depp in "Pirates," was marooned. On New Year's Eve ask the crew to dock at Basil's Bar in Mustique... vessels can be rented through a Web site, Boatbookings.com.
New York Times 10 December 2005.
We've compiled a number of unique things to do in the area during Christmas - see our "Christmas Caribbean" Yacht Charter page.
Grenada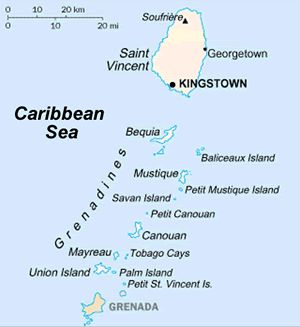 Many of our yacht charters start on Grenada. It is home to spectacular natural scenery and a system of national parks and conservation areas. Whether you are a hiker, bird watcher or simply someone who appreciates natural beauty, Grenada is a treasure. You may want to stay for a day or two in Grenada before starting your yacht charter to enjoy the Grand Etang Forest, the Grand Etang Lake, Mt. Qua Qua, the 450-acre Lavera National Park and the La Sagesse Nature Area. Visitors will see rainforests, crater lakes, extinct volcanos, mountain vistas, stunning beaches, and waterfalls (some for swimming!).
Hikes range from easy 15-minute jaunts to rigorous expeditions of several hours. The trails are well-maintained and documented in guidebooks. The Forest Reserve also provides certified guides (trip leaders). There are a host of different ecological subsystems to see from rainforest to mountain woodlands to reef life with an accompanying diversity of trees, flowers, birds, fish, sea turtles and other wildlife. Grenada is literally a naturalist's and birdwatcher's paradise.
St. Vincent
Like Grenada, St. Vincent holds many natural treasures. One of the most fascinating and beautiful is the Owia Salt Pond. Visitors can swim tranquilly in this enormous pool, surrounded by lava deposits and reefs. Water pours in as waves crash on the barriers surrounding the pool. Hikers should not miss the spectacular two and a half hour climb from the base of St. Vincent's huge volcano, La Soufriere, to its barren summit (1,200 feet to 4048 feet).
One of St. Vincent's most spectacular destinations is the Botanical Gardens (the oldest in the Western Hemisphere, established in 1762 and still containing one of Captain Bligh's breadfruit trees!). Nature enthusiasts should visit the Buccament Valley's Vermont Nature Trails. There are more than 35 species of birds, many species of wildlife including iguana and armadillo and more than 250 plant species. Finally, St. Vincent is home to spectacular waterfalls. Visitors can hike to Trinity Falls, tucked into the rainforest and rising 40 feet or visit the Falls of Baleine, on the northern tip of the island (most easily reached by boat).
The Grenadines
The five deserted islets of the Tobago Cays are all part of a wildlife reserve. No fishing, jet skis or anchoring of dinghies is permitted. The Cays are surrounded by the spectacular Horseshoe Reef.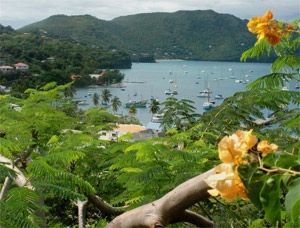 Only 7 miles long, Bequia is a paradise complete with quiet lagoons, gorgeous reefs and long stretches of near-deserted beaches. Small and beautifully lush, with an intimate quiet side, it is the largest of the Grenadine islands. Visitors can hike up the 900 foot "hill" known as "The Mountain" for a magnificent view of the surrounding islands. Bequia is also home to the Old Hegg Turtle Sanctuary, founded to save the Hawksbill turtle from extinction. Another fascinating place to visit in Bequia is "Moonhole", an experimental, ecological development of 20 "free form" homes with no window or door, just "openings". All the houses conform to the hillside with no "straight lines". One house has a tree growing in the living room. (Tours are only available on Tuesdays; call 458-3068)
A short distance away is Mustique, only 3 miles long by 1 1/2 miles wide and about a 1 1/2 to 2-hour sail from St. Vincent (12 miles). Some twenty five years ago, the island was completely unspoiled, then it was bought and gradually developed.
Canouan (can-ou-on) is 3-4 hours from St. Vincent (25 miles). A crescent-shaped island surrounded by wide shallows and coral - A scuba diver's dream. The islanders are mainly fisherman and small farmers. However, with a wealth of excellent beaches and unspoiled scenery, but Canouan is attracting significant hotel development.
Mayreau (my-roe) has about 262 inhabitants - again mainly fishermen and small farmers. The island's Saltwhistle Bay Resort is privately owned resort that offers excellent lunches and night anchors with the possibility for fine dining ashore. As with most places in the Grenadines, the island is only accessible by boat and is 4-5 hours from St. Vincent (35 miles).
Union Island is about 4 1/2 hours from St. Vincent (40 miles) and less than an hour from Carriacou (just to the north of Granada). The island is about 3 miles long and 1 mile wide. It has a dramatic profile of ridges and peaks - the highest is Mount Parnassus some 900 feet above sea level, yet the island is tiny - a little Tahiti... without the greenery. Although parts of Union Island are bustling with activity, eco-tourists should see secluded Chatham Bay on the island's southern tip. No land access and without electricity makes this wide sandy bay a favorite for daytime retreats or nighttime watching of the stars without any glare from lights ashore.
Palm Island is a private resort, designed for visitors who enjoy the tranquility of nature.
Our Charter Yachts in St. Vincent and the Grenadines
We have plenty of beautiful and well maintained sailing yachts, monohull and catamaran, hand selected from only the best operators in this area. Please browse through these yachts we have on the site, and let us know which one(s) may be of interest. If you don't find the perfect boat or have specific needs, we can search for it for you: just fill out our custom booking form and we'll do all the work for you!
Our Grenadines Charter Yachts | Grenada Charter Yachts | Sailing Yachts in the Windward Islands | Catamarans in the Windward Islands
If you'd like any suggestions about eco-tourism in St. Vincent and the Grenadines, please feel free to contact us
Other Articles of Interest
Charter destinations