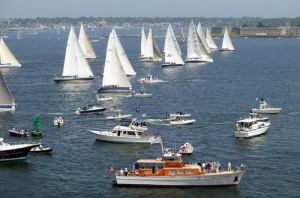 In late June and early July anyone fortunate to be quayside in Newport R.I. can witness the awesome spectacle of 32 ocean-going yachts set sail in the Transatlantic Race 2011, which charts 2,975 nautical mile course from Newport to Lizard Point, South Cornwall (UK). The Royal Yacht Squadron, New York Yacht Club, Royal Ocean Racing Club and Storm Trysail Club organize the event.
The fleet includes sleek traditional designs, such as the 94' William Fife-designed Sumurun, and sophisticated super yachts, such as the 289' custom Perini Navi clipper sailing yacht Maltese Falcon. The Atlantic Ocean crossing can potentially challenge these renowned racers and their teams with fierce storms, testing seas and even icebergs.
Robert Towbin, owner/captain of Sumurun, who won two previous transatlantic races, is currently preparing his classic yacht, which was built in 1914, to endure this first challenge of the 2011 sailing season. "If you have an older boat, a race of this complexity takes a lot out of it, so we are putting a lot of work into it to get it up to date," said Towbin.
Three separate starts will "stagger" yachts of different sizes and ability so that they will arrive in England in proximity to each other. The larger boats hope to finish the race in 8 to 12 days, while the smaller boats estimate 18 to 22 days to finish.
The final race group of legendary competitors includes the VOR 70 crewed by PUMA Ocean Racing Team, the Newport-based second-place finisher in the 2008-09 Volvo Ocean Race and entrant in the next edition as well; Rambler 100, George David's maxi rocket ship that has been tearing up race courses since the beginning of the year, including breaking the record for the RORC Caribbean 600 and taking line honors at the Pineapple Cup-Montego Bay Race; and ICAP Leopard, which holds the current record from Ambrose Light to Lizard Point for monohulls using powered sailing systems.
A TR2011 Panel Discussion is scheduled for tomorrow, April 26, at 5:30 PM EST. Topics will focus on the history of transatlantic racing, the challenge and appeal of transoceanic racing, as well as the upcoming TR2011 and its entries. Panelists include George David, owner/skipper of Rambler 100; Chris Gartner, captain of Maltese Falcon; Larry Huntington, owner/captain of Snow Lion; Bob Towbin, owner/captain of Sumurun; Rives Potts, Rear Commodore of NYYC and owner/captain of Carina; and sailing historian and author John Rousmaniere.
Here are some useful links to Charter a Yacht for a Regatta or Sailing Event and a calendar of Upcoming Yachting Events, Regattas and Boat Show Dates Worldwide.