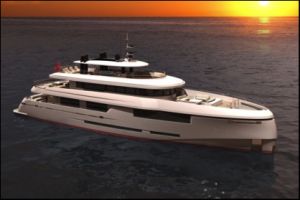 Kingship Marine Limited celebrated the keel laying ceremony for their much acclaimed hybrid yacht Green Voyager last Tuesday at the Zhongshan yard.
Green Voyager is an innovative yacht design that combines luxury and style with the ability to tread lightly. With transoceanic capability, the Green Voyager appeals to a new generation of global adventurers who consider environmental responsibility a priority.
Mr. Horacio Bozzo, designer of Green Voyager, explained that the luxury yacht is the end result of a 360-degree approach that sought to provide multiple solutions to reduce her environmental impact.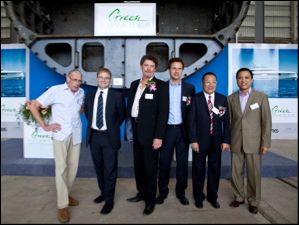 Mr. Mauro Boni, RINA's (Registro Italiano Navale) Asia Pacific Yachting Line Manager, further recognized Horacio and Kingship's effort. Kingship's Green Voyager project demonstrates that Chinese shipyards have the potential to set trends for the superyacht industry with regard to environmental protection.
Kingship created a uniquely Asian influenced keel-laying ceremony. Mr. Roger Liang, Managing Director of Kingship, lead his fellow staff in an incense burning ceremony, asking the gods to bless all Kinship's staff to be safe throughout the construction.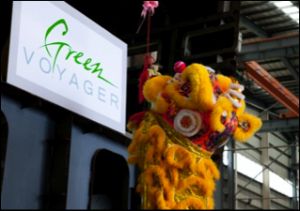 Kingship prepared two new lions for the lion dance, a tradition incorporated into the ceremony. The history of lion dancing dates back more than a thousand years and the lion is regarded as a guardian creature to drive away evil spirits and to summon luck. The lions dance and show different emotions. The lions usually perform the "Picking the Green"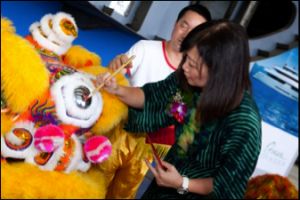 act, tying the keel laying plate to assure an auspicious business. Also their mission was to bless Kingship's technicians and workers for a safe and peaceful construction. After the lions successfully picked the green together with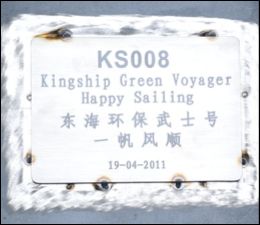 the keel laying plate, they passed it to the Kingship welder who then welded the plate onto Green Voyager and completed the ceremony.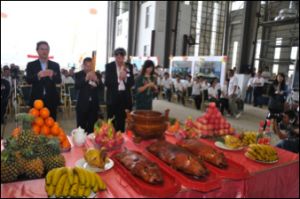 Green Voyager is the first motoryacht in the world of less than 50 meters to have true hybrid propulsion. The vertical plumb bow is an advanced displacement hull, with underwater main parameters and geometry that have been studied and tank tested to achieve exceptional performance, reduce wave-making resistance, minimize slamming and assure a smoother passage through the waves for improved fuel efficiency and speed. Green Voyager is scheduled for delivery in 2013.
Please visit "Green Chartering" for Low Carbon Emissions for information on environmentally responsible charter options.