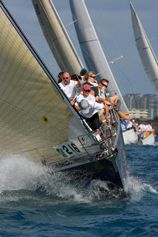 The final day of the regatta was probably the most challenging, characterized by light, shifting winds that demand their unique type of combative expertise. There were a few squalls about but the afternoon saw clear skies. At the end of the day AQUARIUS came in fourth place. Given that they finished first in both the first and fourth races, the crew is justified in feeling that if they hadn't had trouble with the main they very likely would have won the regatta. Although frustrated, the unfortunate event also fires the competitive spirit and inspires determination to win the trophy next time. Despite not winning, the crew of AQUARIUS and all the other competitors sailed magnificently and had great fun.
Thanks to the sponsors and the gracious people of St. Maarten for hosting such a spectacular event with such grace and generosity. Beautiful Kim Sha Beach on Simpson Bay was the site of the final party and awards ceremony. All the teams attended and cheered jubilantly, whether in celebration of their own achievements or for those of other award recipients. There was a great sense of camaraderie amongst the crowd. Once again the food was phenomenal and the music was fantastic. The featured performer was Wyclef Jean, who despite the midnight hour had everyone on their feet dancing.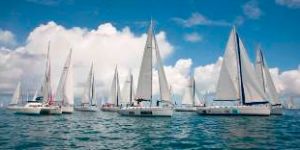 Each year the Heineken Regatta brings different challenges to skilled participants. This year was characterized by light winds and occasional squalls rather than the reliable trade winds that usually prevail. Now, with the conclusion of this year's races, the teams already contemplate the 32nd St. Maarten Heineken Regatta and the unforeseen obstacles that will undoubtedly materialize to test their skills.
Click here for a comprehensive list of Upcoming Yachting Events, Regattas and Boat Show Dates Worldwide. Wish you could be a spectator or on the race team like the fortunate competitors on AQUARIUS? Click here to Charter a Yacht for a Regatta or Sailing Event.