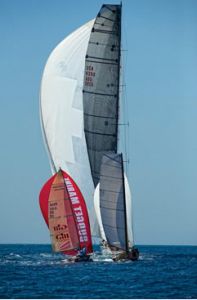 Three races took place yesterday and the competition was fierce in a light breeze of 8 to10 knots. Once again, AQUARIUS proudly finished first in her class in the first race. But tragedy struck in the second race when the main ripped and forced the disappointed crew to return to the dock for the replacement.
Although moral remained high AQUARIUS was only able to garner a fourth place position in the third race, which brought them to a fifth place standing for the day in their class. I was fortunate to be able to visit AQUARIUS where she was moored thanks to the SNSM (Societe National de Sauvetage en Mer), the national search and rescue team on the French side of St. Martin, and reached the yacht bouncing over the waves via one of their imposing orange rescue inflatables. After an all too brief stay I rode back to the dock accompanied by several of the exhausted crew to prepare for the evening events.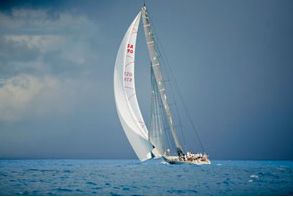 This evening a gala affair took place in the delightfully charming harbor town of Marigot, in French St. Martin. The town is much admired for fine French wines, gourmet French cuisine and a variety of shops selling everything from French novelties to high fashion. It is an incredibly picturesque harbor and on this night the Heineken and rum were flowing freely! Of course the lively banter was focused on the trials and tribulations of the day, with several boats strategizing prior to their convergence on the protest room in an attempt to resolve some "issues" occurring on the race course. Again, competitors, spectators and locals were treated to huge video screens broadcasting the highlights of the day's racing. The biggest difference in the crowd of party goes this evening? Sunburns!!!
Today's race, Sunday March 6, is the final day of racing, with a course from Marigot back to Simpson Bay where the awards ceremony and final big bash is scheduled to take place at Kim Sha Beach.
Click here for a comprehensive list of Upcoming Yachting Events, Regattas and Boat Show Dates Worldwide. Wish you could be a spectator or on the race team like the fortunate competitors on AQUARIUS? Click here to Charter a Yacht for a Regatta or Sailing Event.