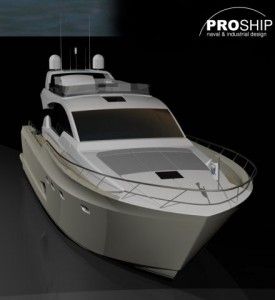 Proship introduces a new brand with a range of three new models, specifically conceived and designed for a Chinese boatyard. The fleet comprises semi-custom models of 40, 56 and 65 feet.
Styling and design target the burgeoning upscale Asian market. Dominating the profile of the ARIA are panoramic windows running the length of the superstructure from bow to stern. These are particularly captivating when illuminated at night. ARIAs streamlined, exterior presence and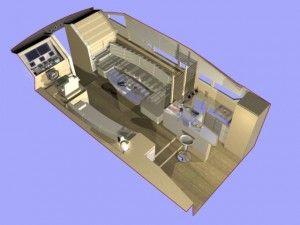 contemporary open floor plan are aimed to create a timeless appeal.
The drawing board of designer Antonio Luxardo, a co-founder of Proship, has revealed numerous cutting-edge yet functional yacht designs. These imaginative renderings manage to incorporate enough conservative elements to keep them in line with market demand.
Luxardo states his aim is to  "compose a complete and enchanting symphony where each model is not designed as an individual yacht but as a component of an harmonic unique and where Italian style, quality and on going innovation will be recognized as the added value of this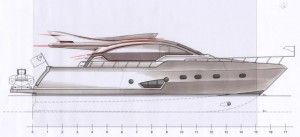 new Chinese brand.
Layout for both the 56 foot and 65 foot models include three ensuite cabins with six berths and a maximum of 20 people on board. Specified engines are
twin Volvo Penta IPS 900 and 1200 respectively, although range and speeds have not been estimated. The engineering project of ARIA YACHT models will be fully managed by the other co-founders of Proship, Luca Cima and Massimo Angelotti.
Boatbookings.com has an excellent and varied selection of charter yachts of all sizes available in destinations world wide. Here is a link to access information: Luxury Crewed Yacht Charter