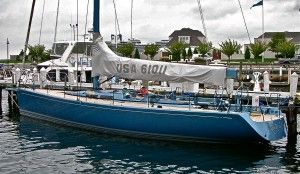 Boatbookings regatta expert Meg Toppa is keeping her fingers crossed for her highly skilled charter client and his race crew who will be racing to win in the St. Maarten Heineken Regatta on board charter race yacht AQUARIUS.
AQUARIUS is a Nauter Swan 601 high performance sailing yacht with lightweight design for sailing at top racing speed. AQUARIUS classic lines and meticulously handcrafted interiors belie the most advanced building techniques and materials used in construction. AQURIUS features custom interiors and deck layout while maintaining hull shape and rig configuration that comply with one-design class rules.
Meg explains that AQUARIUS' charter client has an impressive history of previous race participation aboard his own yacht, but this will be the first time he will be racing the superb charter Swan 601, AQUARIUS. He will set the agenda, although the captain of AQUARIUS will be on board (as per insurance requirements), and is sure to lend a most valuable hand to the team.
In a recent press release, AQUARIUS, a middle range contender, was described as "a dangerous presence" in the St. Maarten Heineken Regatta, the first of three competitions that the AQUARIUS team will undertake. Prior to the Rolex Regatta in St. Thomas, March 25-27 and the Tortola BVI Spring Regatta, March 28-April 3, a between race cruise week is scheduled for March 17-23, when the charter client onboard AQUARIUS will get a little respite.
The St. Maarten Heineken Regatta is scheduled from March 3-6, which puts AQUARIUS in the delivery mode at present. Toppa explains, "there are three modes that the race yacht can be in; delivery, cruise, or race modes. Each of these three modes requires changing the sheets, halyards and sails."
The delivery mode entails lots of logistics, shipping the container with gear, and hotel and flight arrangements for the crew of six, required by any transit exceeding 300 miles. This allows two watches of three crew; one navigating, one helming and one trimming.
This is also a critical time of preparation, which the Captain of AQUARIUS, Chris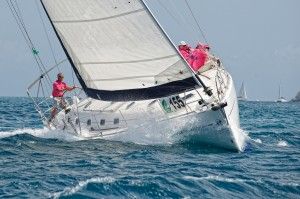 Ringdahl, describes as very labor intensive. In fact just a couple of days ago, he and his wife were still sanding the keel past midnight. This is all part of playing to win.
Coming up is racing mode on AQUARIUS, when on each exhilarating race day the yacht is stripped to reduce weight and the forward berth becomes the sail locker. At day's end, numerous chores include removing the drums from each of the nine winches for cleaning.
Keep checking Boatbloggings for AQUARIUS updates from Boatbookings racing expert Meg Toppa. She will be reporting up to the minute news (hopefully from the rail) throughout the St. Maarten Heineken Regatta.
Here is an informative link with valuable information on chartering a racing yacht and regatta information: Regattas and Sailing Events, Charter Racing Yachts