Whether you are witnessing the disembarkation or embarkation of private luxury yachts from a DYT (Dockwise Yacht Transport) vessel it is an amazing sight. Onlookers at the docks in Brisbane, Australia, were treated to the spectacle as DYT's trademark bright orange semi-submersible ship, SUPER SERVANT 3, arrived in port this week.
Jason Roberts, President of Aurora Global Logistics and DYT's exclusive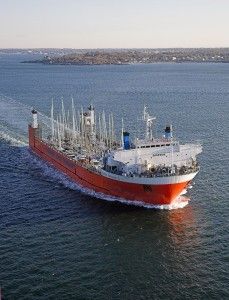 commercial agent for Australia believes that the strength of Australian currency is stimulating the Australian yacht market and increasing demand for services within that sector. "Being market leaders, DYT and Aurora are working hard to service the South Pacific market for yacht transportation in relation to this large influx of yacht movements," says Roberts.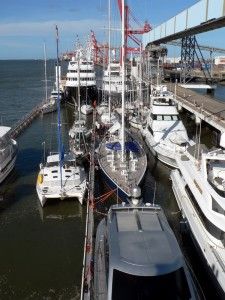 SUPER SERVANT 3, with an impressive LOA of 456 feet, makes a striking entrance piggy-backing her precious multi-million dollar cargo. The vessel uses a unique float-on/float-off loading method that allows yachts of any size to be safely floated on and off as cargo. Captains, owners and crew, who may or may not elect to accompany their yachts on the DYT crossing, arrive for disembarkation, piloting their yachts off under their own power. It's an amazing process," said Roberts, "and no other shipping company has this ability to deliver boats in such a manner."
Dockwise owns a total of four yacht carriers including the 686-foot super ship YACHT EXPRESS. The carriers submerge themselves by pumping nine million gallons of water into their ballast tanks; the vessels are floated into place one-by-one, then sea-fastened before the ship pumps dry to prepare for boat transport. The process is reversed to allow the yachts to safely disembark once they reach their final destinations.
SUPER SERVANT 3 will head from Brisbane to Auckland and return to Port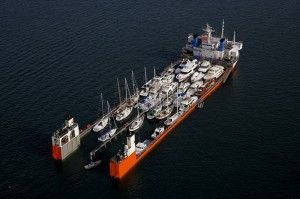 Everglades, Ft. Lauderdale, Florida, in late February, via Ensenada, Mexico. DYT's second "float-on/float-off" voyage to the South Pacific of 2011 will begin in Port Everglades in early July, with stops in Golfito, Costa Rica, Brisbane, Australia, Auckland, New Zealand and return via Ensenada, Mexico to Port Everglades in time for the Fort Lauderdale International Boat Show. This particular voyage is ideal for those who want to attend the Rugby World Cup, which takes place in Wellington, New Zealand, in August 2011.
Photos Credits: Onne Van der Wal
Please use the link provided here for further destination information: South Pacific Yacht Charter