Video Tour of Cape Cod, Massachusetts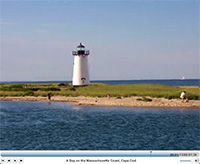 Slide Show, Cape Cod Massachusetts
A classic way to spend the day on Cape Cod is to charter a yacht to view the classic beaches, dunes and quaint New England Ports. We've captured the Cape on the following animated slide show, to give you a visual sense for this spectacular part of the world!
Feel free to contact us or more information about chartering a yacht on Cape Cod. We also have a nice itinerary for chartering from Newport RI to the Cape and Islands.
Click here for a listing of boats for A Day Along the Coast of Cape Cod.
Other Articles of Interest
Charter destinations