Antigua and Barbuda Luxury Charter Yachts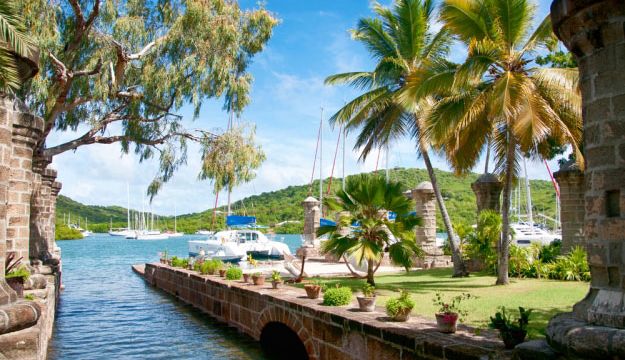 Antigua is one of the most beautiful island getaways in the Caribbean with a distinctive flair all its own, from the historic Nelson's Harbor, to the chic but fun Antigua Yacht Club, to the bustling streets of St. John's, filled with shops and activity.
The island is fourteen miles long and eleven miles wide, the largest of the English speaking islands, and is surrounded by coral reefs.
Nearby, Barbuda, is nearly uninhabited and is home to one of the world's most significant bird sanctuaries, the Frigate Bird Sanctuary. Together these two islands offer unspoiled powdery white sand beaches (365 of them!), amazing snorkeling and scuba diving on the reefs, fantastic dining, and as many spectacular sunsets as you want.
You can also explore island museums, visit the famous Harmony Hall restaurant and inn, and experience the weekly "jump up" on Shirley Heights. This weekly event on one of the highest points on the island entails a huge barbeque and a glorious sunset followed by dancing to a steel band. Have a look at our blog on our beach club guide around the Caribbean, it gives you a mix of relaxed or party atmosphere beach clubs to suit any preference!
Sort through the charter yachts below or use these handy links to quickly find the yachts that best fit your needs:
Motor Yachts: Crewed
Monohull Sailing Yachts: Bareboat (inc. Bareboat with Skipper) | Crewed
Catamarans: Bareboat (inc. Bareboat with Skipper) | Crewed
Yachts for Special Events: Motor Yachts | Sailing Yachts
User Ratings: Top-rated yachts
Other Articles of Interest
Charter destinations