Celebrate Christmas and New Year 2022/2023 in the BVI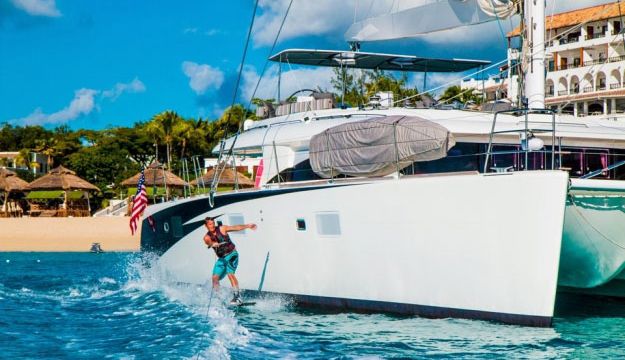 The holidays are the ultimate time of year to get away with your family and celebrate the end of 2021 or see the beginning of 2022 with a BVI yacht charter adventure. Nowhere in the world embraces the New Year sailing atmosphere better than the British Virgin Islands. A white Christmas is a thing of the past here, we prefer golden - the glistening, soft sand to replace the snow and the warm, shining sun to replace that dreary overcast sky, giving you a tropical and unforgettable Christmas.
The BVI is accessible from most US and European cities. Try flying into St Thomas and we can help you with a transfer over to Tortola, the very best place to start your BVI crewed catamaran vacation. Bring your friends and family and get ready to experience the very best Christmas yacht charter to date. Don't forget the presents! Keep in mind that timing is key, so book now and give yourself and your family the ultimate gift that will last a lifetime!
For those who prefer to stay at home during the holidays and celebrate New Year, Foxys on Jost Van Dyke is legendary. As one of the world's iconic destinations to host New Year's Eve celebrations, you are bound to enter 2022 in style. Whatever you fancy, we will work with you at every step of the way to plan an unforgettable winter vacation!
Other Articles of Interest
Charter destinations