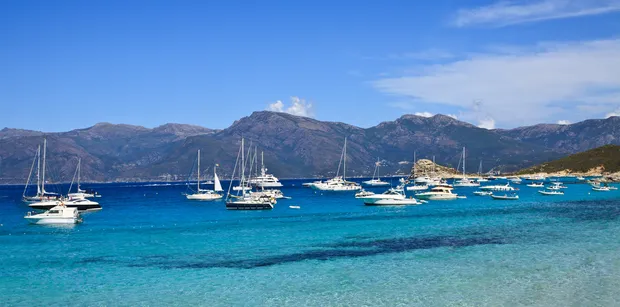 Chartering a yacht in Saint-Florent is a superb destination for your summer vacation in the Mediterranean.  Saint-Florent is a port town located in the northwest of Corsica. Originally a commercial fishing port, today it is a stunning yachting destination because of it's architecture and monuments such as the citadel built in 1440.
Along the coast you will see some beautiful ancient towers like the towers of genoese and a bit further you will see some amazing bays with breathtaking long sandy beaches including Saleccia beach, considered one of the most beautiful beaches in the Mediterranean sea. There is a beautiful contrast between the Corsican Maquis hills, the sea and the city of Saint-Florent.
If you charter a boat in Saint Florent, you can put it on anchor in the bay or negotiate a berth in the port.  There are plenty of excellent local restaurants in the port, we recommend the restaurant in Hotel d'Europe.We also recommend a day trip to the port of Centuri to eat what some people call the best lobster of Corsica. If this is too far for you, you can go to one of the nearby bays and have swim in the beautiful sea, lay down and get a tan in the nice sandy beach or go snorkelling and discover the underwater world of Corsica.
For more information on Chartering a Yacht in Saint-Florent click here. At www.boatbookings.com, we welcome everyone from sailing professionals to complete novices and will help you at every step of the way to make your dreams a reality. We have a team of highly skilled professionals who are extremely knowledgeable in their destinations and will be able to help you with any questions you may have.
Watch this space for the latest industry show releases, news and gossip in the yachting world. If you liked the content on this page and our previous posts, please become a fan and like our Facebook page to receive up to date information on our publications. Follow us on Twitter and Google Plus too.