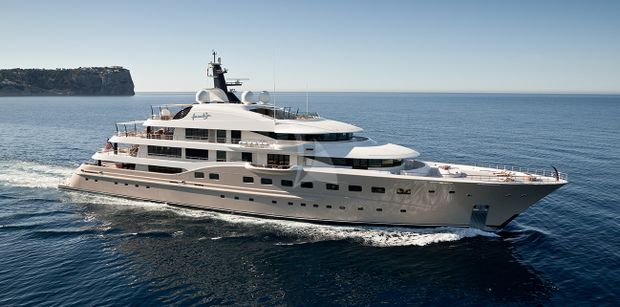 HERE COMES THE SUN is a fitting name for a yacht that explores the sun-filled destinations, as well as brings the sunshine wherever she cruises. This 83m Amels beauty claims Super Yacht of the Week for a variety of reasons; her exotic cruising areas, outstanding deck features and unique wellness and spa amenities. She explores sought after destinations of South America, Alaska and California in the summer, before heading over to the French Polynesia, New Zealand and Seychelles in the Autumn/Winter. This sets her apart from other yachts with a riveting itinerary and chance to explore undiscovered gems.
The exterior of this Tim Heywood masterpiece is jaw-dropping to say the very least. Stroll to the bathing platform after an al fresco breakfast and stretch out on the comfortable sunbeds, with a dazzling backdrop of your chosen cruising area.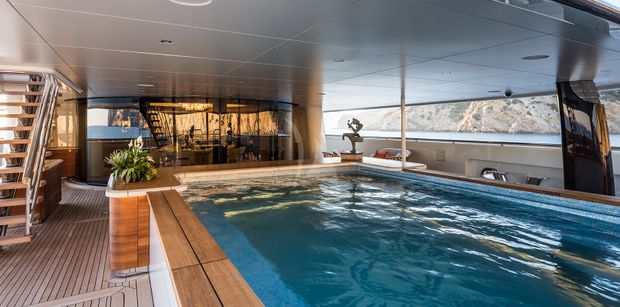 When you need a refresher, head to the main deck where you will find an 'Instagrammable' infinity pool. Once the yacht is underway, a popular spot is the sundeck which offers shade, sunbeds and a Jacuzzi with panoramic views of the ocean and captivating coastline.
The interior of HERE COMES THE SUN is equally lavish. The owner's suite is a marvel, with panoramic windows providing gorgeous views to wake up to in the morning. The interior matches the lively splashes of orange that ooze through the exterior, adding to the vibrant atmosphere of the yacht. The natural woods create a calming and neutral tone, which adds sophistication and a contemporary feel.
In case you aren't relaxed enough, this yacht boasts a private deck wellness and spa! Get sweltering in the sauna and steam room, enjoy a massage or workout in the gym to stay in shape. To top off this relaxation, enjoy an evening in with a theatre room to screen the latest premieres in the comfort of your private yacht and great company.
If you are looking for an indulgent, majestic and glamorous voyage, HERE COMES THE SUN is the yacht for you. If you agree with our enthusiastic opinions, enquire with a broker to find out more.
HERE COMES THE SUN is available for charter in many fantastic destinations: the Caribbean including the Bahamas and Windward islands, the South Pacific including Fiji and French Polynesia and Australia! In the summer she is even based in the East Med, in Greece, Italy and France. She is for charter starting at €1,200,000 per week plus expenses. Please contact Boatbookings for more information on superyacht charter.