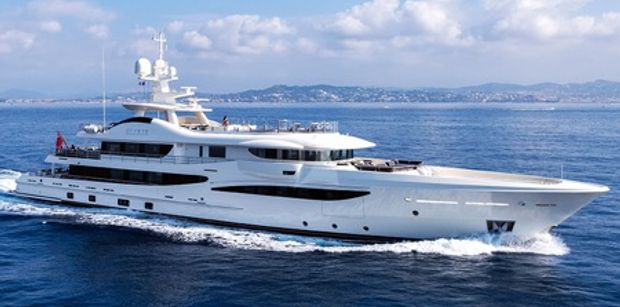 ELIXIR is a 55m Amels, one of the newest in the range, and epitomises performance and elegance. Her gleaming white hull showcases her grace and style, as she cruises in Southeast Asia for the Winter, before crossing to the Med in the summer. She was an easy choice as a standout yacht as she will guarantee fun in the sun, and happy hour every hour, with her exemplary features, crew and aesthetics.
If you are feeling energetic, ELIXIR provides an abundance of water toys that are suitable a range of ages (and confidence).  Imagine being in the warm, turquoise waters of Thailand zooming around on the seabob, being chased by colourful fish as you glide. Alternatively, picture being in the serenity of Sardinia, and choosing a paddleboard to do your own exploring of the rugged yet charming coastline. If you love to exercise but water sports is not your thing, work out on deck with the crew with the wide array of equipment available so you stay in summer shape!
Relaxing is a key objective of many yacht charters, and ELIXIR provides all the facilities to do so! The exterior elevates this impressive yacht to a new level of luxury and prestige, with an inviting Jacuzzi, an abundance of sunbeds and bar awaiting you on the upper deck. You could easily anchor yourself here all day! 
Head up for golden hour to have delicious cocktails served by the friendly crew, before having local cuisine served by your talented chef on the dining table. ELIXIR is bound to provide cherished memories both in your mind and your new and improved Instagram account!
After a fun-filled day soaking up the sunshine, splashing about in the dazzling ocean, and sampling tasty and fantastic food, you may want to retire inside. The interior of this yacht could be described by so many wonderful adjectives, as it oozes glamour, taste and artistic creativity. With dark woods contrasting the lighter fabrics, as well as intricate furniture and ornate detail, you will be surprised and delighted to notic new things on EXLIXIR. Above is the Master balcony, where after a serene sleep you can awake and enjoy a fresh juice to this delightful wakeup view.
If you are chasing the ELIXIR of life, this yacht may be the answer! We certainly think so. To understand how to secure this sought after yacht for a charter either in the Indian Ocean or the Mediterranean, get in touch and we will guide you through the process.