Glitzy, glamorous and extravagant are three words that come to mind when describing the International Film Festival in Cannes. Chartering a luxury yacht during the festival period will be a very memorable experience. Mingle amongst film stars; entertain prospective clients or just soak up the vibrant atmosphere of Cannes at this glorious time of year.
The Cannes Film Festival was founded in 1946 and takes place at the 'Palais des Festivals,' a grand conference center situated in the heart of Cannes. This year's festival will take place between the 15th and the 26th of May. It is a 12 day cinematic extravagance where 25,000 directors, producers, distributors, publicists and film stars come together to celebrate the most prestigious film festival in the world. The Jury and the President of the film industry will award the highly coveted Palme d'Or to the film that best 'serves the evolution of cinematic art.' This year the President of the Jury is the award-winning American director, Steven Spielberg.
Cannes' great blood sport is celebrity spotting. Marvel at the famous film stars and producers making their way up the red carpet at the entrance to the Palais des Festivals. It is known for crowds to build up soon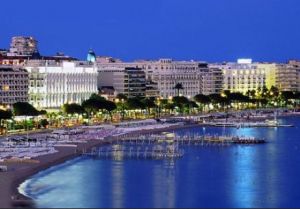 after lunchtime, so stake out a place early! The Palais des Festivals is directly adjacent to the Old Port and provides the perfect opportunity to charter a luxury yacht of your choice. Chartering a yacht so close to the Palais provides on site accommodation, a chance to entertain clients and promote your brand or the possibility for a relaxing cruise along the gorgeous French Riviera.
ALIBI is a magnificent and luxurious super yacht berthed on the French Riviera. She boasts 6 beautifully designed cabins that can accommodate up to 12 guests. ALIBI is extremely spacious and is perfect for corporate events and entertaining prospective clients. Furthermore, there is an on board gymnasium, Jacuzzi and grand sun deck.
At Boatbookings,we organise luxury yacht charters all around the world with our highly qualified team. We leave no stone unturned in matching not just the yacht and the destination to your requirements but also the crew, itineraries and all other subtle aspects that comes together to create a charter of a life time!