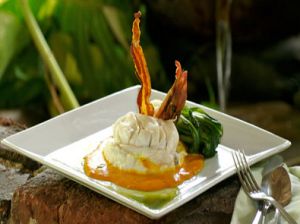 Head to the Sugar Mill Restaurant, on your luxury yacht charter around the magnificent island of Tortola, in the BVI. Picture dining in a tropical garden at sunset, whilst the gentle waves lap against the golden shore. Known as one of the most romantic restaurants in the world, Sugar Mill thrives on its idyllic setting and succulent food. Indulge yourself on the the evening's selection of Lobster Bisque with Basil Croutons or Warm Oyster Gratin with Smoked Bacon and Guinness Hollandaise, prepared freshly by Jeff and Jinx Morgan, the restaurants' award-winning chefs.
The island of Tortola is immersed in the turquoise waters of the BVI. Visit this picturesque setting on the tantalizing NORTHERN LIGHTS. This Westship 132, invites guests into a lavish world of modern deign and faultless engineering. The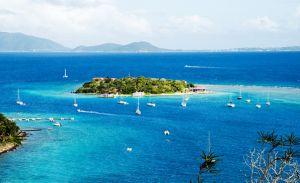 attention to detail is impeccable. Accommodating up to 10 guests within her 5 grand staterooms, NORTHERN LIGHTS is best suited for large groups who want to experience the ultimate in luxury. Her interior is chic yet imaginative, the silk upholstery and marble top bar are just one of her many exquisite features. The gracefully curving lines of the furniture echo the flow of waves, while original paintings celebrate feminine beauty. The open dining area is luminous and elegant, providing the perfect setting for a 5 course evening meal. Away from the fine china and gold plated interior lies an extravagant reclining area. Here is the perfect place to bask in the sun, unwind in the Jacuzzi or sip slowly at a freshly prepared martini. NORTHERN LIGHTS provides guests with 5 luxurious staterooms, all equipped with state-of-the-art entertainment systems. The adjoining en suites are panelled with the finest marble and the grand walk-in showers are very inviting.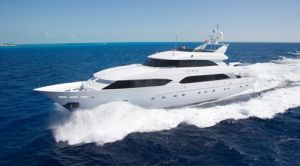 Lose yourself in the luxury of NORTHERN LIGHTS today!
At www.boatbookings.com, we are here to help you plan your perfect luxury yachting holiday. We have a team of highly skilled professionals who are extremely knowledgeable in their destinations and will be able to help you bring together the yacht, the crew and all the other aspects that make your charter special.
At Boatbloggings we will keep you updated on the latest industry show releases, news and gossip in the yachting world. If you are looking for more information on yachts, charters and other yachting gossip, please become a fan and like our Facebook page to receive up to date information on our publications.Follow us on Twitter and Google Plus too.