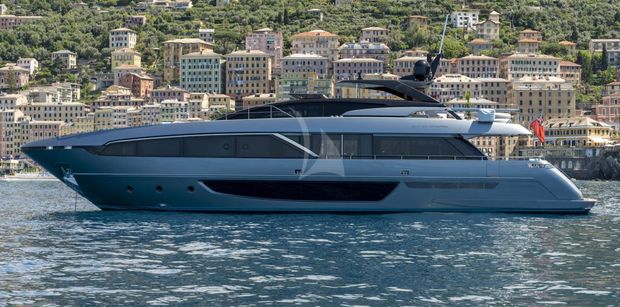 Launched in 2021, MAXIMUS is Riva's new 100 Corsaro available for charter on the French Riviera, Sardinia and Corsica.
This crewed motor yacht offers the ideal chance to charter a brand-new 30m vessel for 10 guests who wish to combine adventure with luxurious relaxation and exclusivity.
British Captain, Wayne Jones, is a great character and a dedicated charter captain with fabulous hospitality skills and 10 successful years of experience. With the support of 4 knowledgeable and attentive crew, MAXIMUS provides an entirely personalised service to make sure you have a seamless charter experience.
Exterior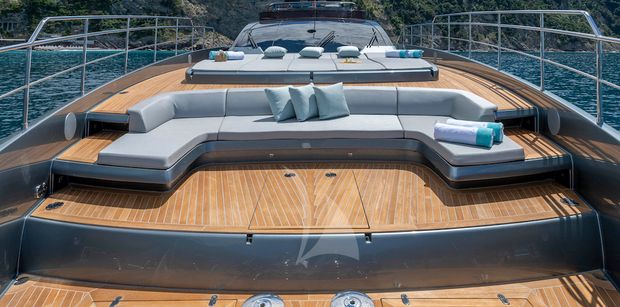 Built by the reputable Riva shipyard, MAXIMUS embodies fine Italian yachting artistry and unparalleled performance, with an artful combination of sleek exterior lines and luxurious features showcasing the new era of design.
On deck, guests can choose from 3 different spaces to unwind. These include a generous sun deck with alfresco dining, a foredeck with built-in sun pad, perfect for sundowners and soaking up the rays, or a main aft-deck area featuring another space for dining.
Interior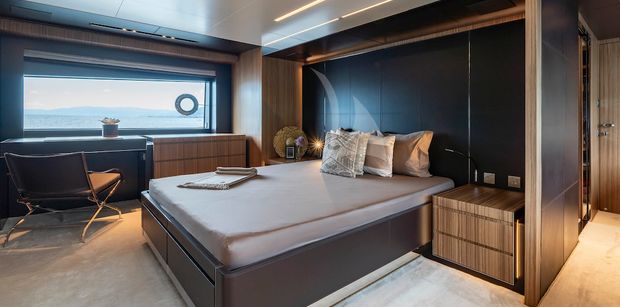 An interior styled by Ferretti Design ensures a comfortable and stylish accommodation for 10 guests in the form of 1 King, 2 Queens, and 4 Singles. Sumptuous soft furnishings and contemporary curves, combined with large windows illuminating the space with natural light, inspires calming relaxation.
Her 2021 build features the most impressive integrated systems, including a state-of-the-art stabilisation system to reduce the undesirable rolling motions.
Tender & Toys
Not only does MAXIMUS boast an impressive cruising speed of 24 knots, she houses an incredible array of water toys for the vessel's size. Guests can enjoy connecting with the water on the likes of water-skis and wakeboards – both entertaining for beginners and season pros. Or, dip below the surface on one of two F5S SEABOBs and unveil a technicoloured underwater world.
For less high-octane activity, guests can venture further afield and explore the surrounding islands on Electric Combo Jetsurfs and paddleboards. Or, tender ashore onboard a Williams Jet Tenders Tender to explore by bike.
Make an Enquiry
MAXIMUS is available to charter in Corsica, Sardinia and on the French Riviera this summer. Chat to our Charter Experts today and begin planning your bespoke adventure.