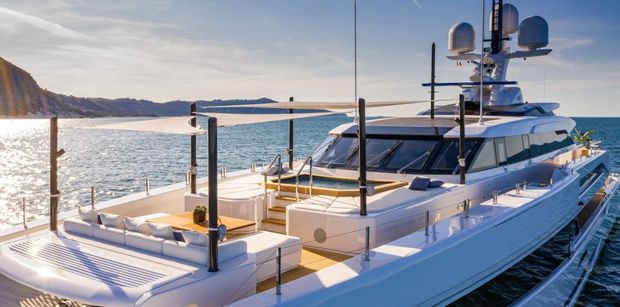 Making a splash in 2021, this brand new 50m Columbus Sport is the epitome of luxurious yachting in the Western Mediterranean.
Built in typical Columbus Yachts style, 11 guests can experience cutting edge design and the finest advances in modern yachting this summer under the helm of Italian Captain, Enrico. And with one crew member per guest, K2 is the ideal venue to host the ultimate celebration.
Exterior
Her exterior is an object of rare beauty, featuring a vertical hull and sleek lines.
Her performance is nothing short of spectacular, and with cruising speeds of 18 knots, you can cover the best of the French Riviera and Italian Riviera. Both a seamless underway experience and calm overnight anchorages are ensured with zero speed stabilizers to reduce any rolling motions.
Among many attractive qualities – such as the foredeck jacuzzi – beautiful canvas shading on the foredeck maximises the versatility of this generous socialising space, whilst manoeuvrable seating pads can easily transform into separate conversational areas. Ultimately, K2 is exquisitely designed to host a celebration – be it a milestone birthday, family reunion or graduation party.
Interior
Designed by Luca Dini Design studio, K2 hit the seas as a true icon of style.
"The concept of this yacht mirrors the personality, style and approach to life of its owner. Elegant, refined, attentive, demanding, but also sporty, traveller and open-minded." – Luca Dini
There is no expensing comfort and sophistication whilst inside. A variety of woodwork, marble and soft furnishings give contrast and welcome guests onboard for a relaxing and carefree charter experience.
Tenders & Toys
Ideal for an adventure-rich charter and to keep those looking for some high-octane activity satisfied, K2's beach club is home to an incredible host of water toys. Our favourites include 2 Seabobs, 1 SeaDoo Jet Ski and 1 Jetboard.
Charter K2 in Croatia or Sardinia this summer should you desire a blend of onboard relaxation and secluded anchorages to enjoy water sports activity, or explore the star-studded ports of Cannes, Monaco or the Amalfi Coast's hillside towns.
Make an Enquiry
K2 is available to charter in the Western Mediterranean this summer. Enquire with our expert Charter Brokers to hear more about her charter opportunities.