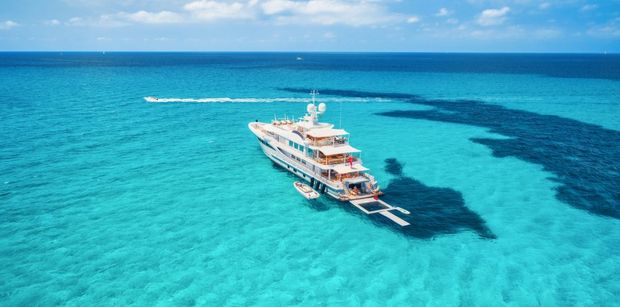 Following the hype of Thanksgiving, the excitement of Christmas and New Year is swiftly approaching. At Boatbookings, we are beginning to dream up extraordinary charter vacations ahead of Winter 2022/2023.
Special island festivals unique to the Caribbean will provide you with a vibrant Christmas and New Year getaway. Alternatively, the Indian Ocean offers glorious anchorages for private beach celebrations in areas only accessible by yacht. If you are looking to celebrate the festivities in style, then now is the time to begin planning your bespoke getaway with our Charter Advisors.
Scroll for a little inspiration on where you could be celebrating next winter.
Foxy's, British Virgin Islands
See in the New Year in style. Jost Van Dyke is the destination, and Foxy's the venue. Be welcomed ashore by the affable Foxy, an iconic character across the BVI, for 48 hours of rum and reggae and fireworks at the iconic beach bar in the shade of a tamarind tree.
Although making a name for himself hosting events since 1968, Foxy's Old Year's Night is renowned across the BVI and is the only place to make an appearance – although his Thanksgiving Feast is as equally renowned.
Anchor early to reserve a highly sought-after spot in the bay and either enjoy a special dinner onboard or tender ashore early for the famed Foxy Caribbean beach BBQ. Local area bands provide non-stop steelpan music; homage to the Caribbean islands, from dusk till dawn.
Bagatelle, St Barths
Soak up the legendary Bagatelle atmosphere under the Caribbean sun, celebrating South of France's "joie de vivre" and epicurean spirit in the beautiful St Barths.
Bagatelle is a prestigious establishment renowned for offering a luxury French Mediterranean dining experience, however with a dose of winter warmth in the heart of Gustavia.
A day at this beach club is necessary of you are looking for the ultimate celebration whilst chartering a yacht in St Barths. As an indulgent island entirely dedicated to glamorous yacht parties, boho boutiques and blissful spa treatments, St Barths is certainly worth incorporating into your celebratory yacht charter.
Staniel Cay Yacht Club, Bahamas
Celebrate the festive season in style alongside locals as you party across the beautiful Bahamian island chain onboard your luxury crewed catamaran.
Float southwards through the Exumas towards the Staniel Cay Yacht Club in time for their famed New Year's Eve "Masquerade" tradition, complete with Bahamian pig roast and midnight fireworks. A unique addition to your suitcase, this New Year you will need a mask to attend the Staniel Cay Yacht Club party on their sandy shore.
The Staniel Cay Cruising Regatta is always great fun on New Year's Day, although at the northernmost end of the Exumas, Nassau hosts the traditional Junkanoo Parade. In a celebration of Bahamian art and culture, Bay Street is abuzz with vibrant carnival-goers, elaborately costumed dancers and the sound of horns, drums and bells.
Basils Bar, Grenadines
Grenada has no trouble in delivering the most zealous celebrations of all the Windward Islands. Although prided for its remote island rejuvenation and relaxed atmosphere, the Grenadines come alive with plenty of entertainment during the festive season.
A favourite of ours to ring in the celebration is the landmark and cultural heartbeat of Mustique, Basil's Bar. From Tacos & Tequila Thursdays to Sunday Sunset Sessions, Basil's Bar is an indispensable part of island live on Mustique with a longstanding reputation for attracting yacht guests for over 50 years; particularly crewed sailing boats thanks to the consistent winds.
Seychelles & Maldives
For those who prefer the more relaxing celebrations in total island bliss, the Seychelles and Maldives offer the perfect cruising grounds to do just that. If floating from island to island onboard a fabulously chic yacht takes your fancy, jet off to the Southern Hemisphere for an exclusive celebration in the utmost privacy amongst a string of paradisical islands peppered across the Indian Ocean.
Your Captain and crew are experts in remote areas and have a talent in taking you to the most secluded bays, only accessible by yacht and perfect for a private beach setup or yacht-based celebrations, often the perfect atmosphere for the ultimate celebration with your family or friends.
Plan the Ultimate Festive Celebration
To celebrate the festivities in style, chat to our Charter Advisors and begin planning the ultimate festive vacation.