Food, glorious food. There is no better way to celebrate time with friends and family than sitting around the table, sharing good food and conversation. As a world of 'foodies', this once simple requirement has turned into an obsession. Don't leave anything to chance and charter a yacht with your very own private chef this summer. If you're looking for a destination, head to Italy. Where else will you find better Mediterranean gastronomy?
Naples, Italy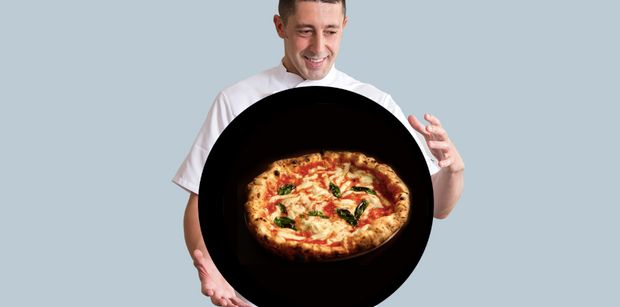 The Amalfi Coast is on everyone's bucket list. Home to active volcanoes, quaint hilltop villages, underwater grottoes and no less than 17 Michelin starred restaurants, the area truly has something for everyone. Italy, however, offers more than just fine dining. Naples is a UNESCO World Heritage Centre and the birthplace of Pizza. If you want great Neapolitan Pizza with a modern twist, head to 50 Kalò on Piazza Sannazaro. Our personal recommendation is the Kalò pizza, which combines perfectly prepared sourdough bases with the best local ingredients. The result is pure perfection.
Ischia, Gulf of Naples
C/0 Lo Scoglio, Ischia
Our Brokers always recommend visiting Ischia on your 7 day Amalfi Coast yacht charter itinerary. Ischia lies 15 nautical miles west of Naples, yet feels a million miles away from the hustle and bustle of the city. One of our favourite anchorages is to the south of Castello Aragonese, the perfect place to enjoy lunch at anchor and an afternoon full of water sports. If you're feeling like something lighter for dinner, take a terrace table at Lo Scoglio on Via Cava Ruffano. Using the very best ingredients grown on the island, you will savour authentic Italian cuisine.
Nerano, Amalfi Coast
C/O Conca del Sogno, Nerano
The Amalfi coast stretches 1,231 hectares between the Gulf of Naples and the Gulf of Salerno, featuring 40 km of coastline. The result is some of the best fish and seafood in the Mediterranean, simply prepared and matched with produce from the land. Conca del Sogno on Via Amerigo Vespucci in Nerano is one of our top recommendations for lunch. Start with simple Spaghetti alle vongole before trying the umptious octopus. Prepare to be blown away!
Get in touch today
We love the Amalfi Coast and know you will too. Speak to the Boatbookings Team today to start planning your tailor made Italian adventure.