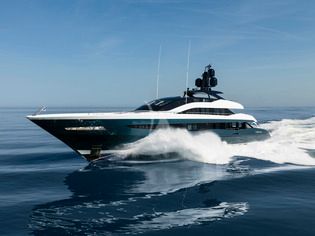 This week we are introducing to you IRISHA, an easy pick for Super Yacht of the week due to her sleek, sporty and stylish appearance. With a cruising ground of the celebrated Sardinia, as well as the fabulous French Riviera, she turns heads along the coastline with her sparkling metallic blue hull.
IRISHA is a desirable length, at 51m, as she is sizeable enough to enjoy luxury and spacious areas, yet not too large to get into most ports and anchor far away from shore. With a top speed of 25 knots, you could enjoy a day of cruising along the Riviera, visiting the glamorous Monaco and vibrant Cannes in one day.
IRISHA's all glass cockpit is a feature you will immediately notice, which allows light to spill through the interior. Head to La Maddalena Archipelago, a beautiful set of beaches in Sardinia, and watch them get closer as you laze around in your private Jacuzzi on the top deck. On the bow, a second seating area is the ideal place for admiring the views, such as the dramatic cliffs of Bonifacio.
Pull up in a prime spot berth in a destination of your choice, and set foot in the quaint and colourful towns, have a beverage on the harbour or do a spot of shopping, whatever takes your fancy! The crew of 9 are on board to ensure you are having the best possible time, including recommending the hotspots as they know the area well. If you are looking to unwind, IRISHA boasts a wellness area, complete with sauna and a massage table is located in the beach club.
The interior of IRISHA is lavish, elegant and oozing with glamour. The 5 cabins are unique, yet share a commonality of sophistication. Enjoy the natural light, exquisite detailing and plush furniture. Wake up in the master, and step onto the French balcony to soak up the surroundings in the morning. The main saloon is also a popular spot for a nightcap, board game or watching the latest films or sports matches.
If you seek peace, tranquillity and harmony, this is where the name IRISHA derives from, so you are sure to find on this private yacht! Contact us now to put in an enquiry, so you can arrange a memorable summer.