We think our yachts, destinations and crew are all fantastic! But you may think we are biased… so here is feedback from a guest who chartered in Southeast Asia recently so you can hear it from someone that's not us!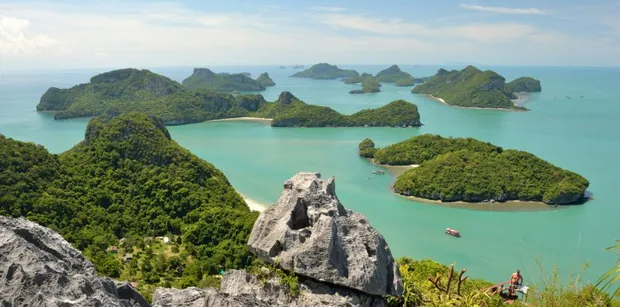 We had a great time in the Andaman Sea! On Monday we got a pickup from the airport and went to our yacht in Phuket. We picked their 41′ Beneateau Oceanis, "Alexa", which had the sleeping room and amenities we really wanted.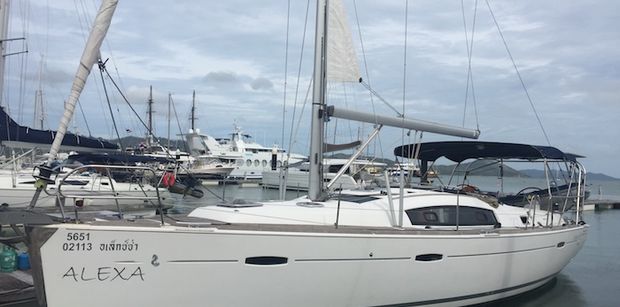 Check in was super simple, but make sure to listen to their recommendations about spots. I had worked up an itinerary based on what we were wanting to do and what time we had and they were nice enough to review it and give us pointers on shoals and tides. A couple of these turned out to be very prescient!
The next day, we planned to make it down to Koh Phi Phi quickly and sail around the area a bit. However, this day was our lightest wind day yet being the hard headed captain I am we stuck with sail, and I barely avoided mutiny by increasing alcohol rations!
Wind picked up towards the end of the day and we sailed into the South Bay at Koh Phi Phi with no problem that night. Anchored about halfway from the beach to the end of the peninsula on the west side of the bay, which was calm and breezy all night. Dinner and drinks on Koh Phi Phi and a short dinghy ride back.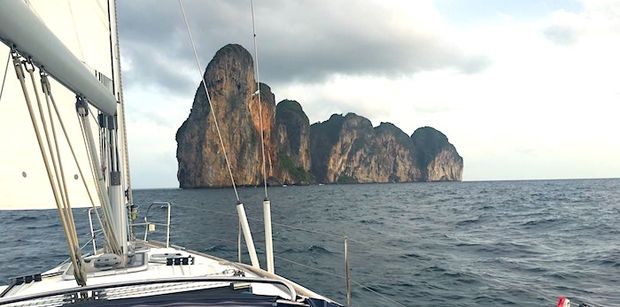 The next day we made our break for Railey Beach. Wind was very good out of the Northwest 15-20+ knots all day, and we hit  Poda Island (fairly close to Railey) with enough time so we decided to anchor up for a swim and lunch. Would highly recommend the island! There is a sandy embankment that stretches fairly far out behind the island beyond the reef. And swimming / taking the dinghy in is a cinch. Do be careful, the spit of sand between the islands fills in quickly with the tides, and you can get stranded away from your boat (or so a local
beach-walker told me)…
After our beach day we pulled anchor and continued breezing it all the way to Railey. Railey is wonderful, and we had dinner at a beachfront restaurant of which there are many. If you do toss anchor on the east side like us, do make sure to follow the main walk between beaches, which continues directly west after the dock. We got a bit turned around in the wining paths of the island earlier in the day.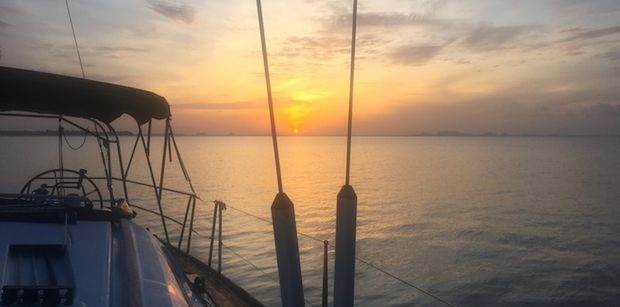 Next day we were up early with a long north-western leg and a north-western wind. This was the day of the tack, as we picked our way through some beautiful islands to make it to Koh Yao Noi and the Paradise resort enclave. We arrived shortly before sundown and tossed anchor outside of their swimming area. The mountainside is beautiful and there was very little boat traffic as the resort was mostly empty.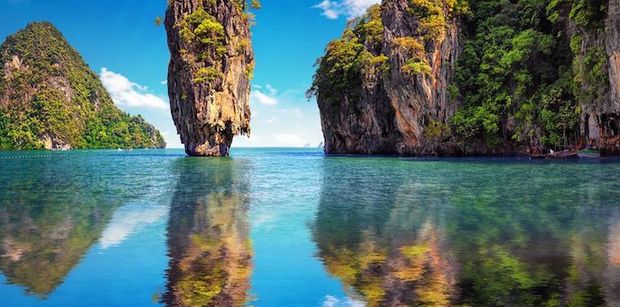 The next day we docked, unloaded, got checked out & were headed back up to the office in about two hours. After a final checkup and handshake we were off to the next leg of our trip!
Special thanks to Boatbookings Kevin Moir for working with us!