This summer the 'nautical' look is making it's mark. Here are some quirky and questionable trends that we have noticed are very popular in the French Riviera.
Is green the new black? Adidas are striving to save the seas by creating trainers made using garbage from the sea. This innovative design is partially made from waste materials; the sole of the sneaker from sustainable materials whilst the upper part is from recycled ocean waste. The trash was collected whilst on a mission to monitor illegal poaching, hence the colour of the shoe stemming from the green fishing nets used in the expedition.
Out with the old and in with the new! Orlebar Brown swim-shorts have only been around since 2007 but are all the rage this summer because of their vintage, playful vibe and tailored fit. After being endorsed by many celebrities and featuring in 'Skyfall' they soared in popularity, helping you ooze that James Bond confidence and sophistication. We especially love the nautical themed designs that feature Cannes and Menton, they are the perfect attire when cruising around the French Riviera!
Feeling wavy this season? Gucci's spring collection at Milan Fashion week will be sure to get you onboard. Frida Giannini took the helm and replaced the standard navy stripes with genuine Royal Navy inspired attire. The nautical theme ran through the menswear, from the naval captain with braiding on the cuffs displaying his rank, to the Jack Sparrow look-alike with gold buttons and shell necklace! The collection had a focused theme but still maintained the creativity and avoided a monotonous maritime style.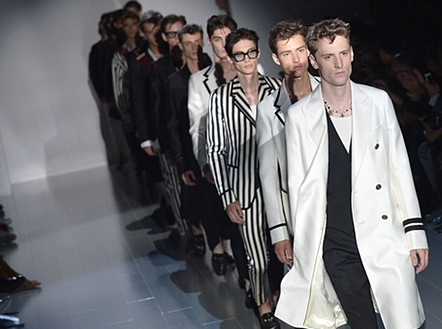 Reckon you can pull off these fashion statements? Join us and strut your stuff down the Croisette in Cannes or the Promenade des Anglais in Nice!