The second largest island in the Mediterranean, Sardinia is a European paradise. Located closer to Africa than to Italy, the turquoise sea and white sandy beaches of Sardinia rival anything you would see further afield. Add to this the local cooking of hearty pastas and pungent cheeses such as pecorino and smoked ricotta washed down with the local wines, and you have yourself the ideal charter destination.
Begin your Sardinia yacht charter from Portisco, a short taxi ride from Olbia airport, and immerse yourself in the Costa Smeralda, the Emerald Coast. This coastal resort is renowned as the playground of the rich and famous since the Aga Khan made it his playground in the 1960s. Sail north to La Maddelena National Park, scattered with islands and sandy beaches, including the famous spiaggia rosa, with pink sands, where peaceful anchorages await, or head for Corsica and the harbour town of Bonifacio for some French flair.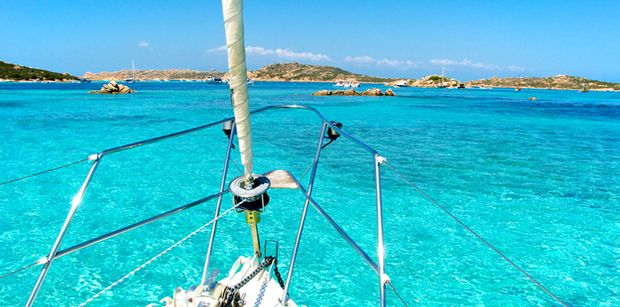 If you're a fan of bareboat sailing, set sail aboard the Jeanneau 57 which accommodates up to 12 guests in 5 cabins.
In order to whet your appetite we have come up with the following one week itinerary in Sardinia.
Starting in Portisco, head towards Tavolara (12 nautical miles). Anchor in the bay of Spalmatore with its beautiful beach and fantastic view. In the evening, head ashore to dine at the restaurant "Re di Tavolara".
Day 2, from Tavolara to Isola Caprera (21 nautical miles). The island is part of the Maddalena Archipelago and home to the House of Garibaldi (which is now a museum).
On the third day, sail to Bonifacio (18 nautical miles). The beautiful harbour of Bonifacio is a sight in itself with its split limestone cliffs, as well as the baguettes and crepes of France which await!
Leaving Bonifacio, head to Isola Budeli (11 nautical miles). Part of the Maddalena Archipelago and famous for the spiaggia rosa.
Set sail to Isola Spargi (3 nautical miles). This part of the route offers many small bays with stunning transparent waters.
Explore the island with the same name as the archipelago, La Maddalena (3 nautical miles). The main town in the islands offers all kinds of shops and restaurants for your perusal.
Leave La Maddalena in the direction of Pervero (9 nautical miles). A stunning bay just behind Porto Cervo marina where you will find two sandy beaches against a backdrop of green hills dotted with the villas of the Costa Smeralda.
Finish your journey by sailing back to Portisco (5 nautical miles), when it is time to head home!
Do you want a taste of this sailing experience? Contact Boatbookings today in order to start planning your summer sailing!