We're taking an unusual turn this week, and looking towards timeless elegance and a touch of traditional class. NERO benefits from a classic gentleman's yacht style but with every modern feature you could possibly wish for, and some features that will exceed even the most discerning of wish lists. NERO is a romantic yacht and offers all the charm and luxury of 1920s design. Currently cruising the Caribbean, NERO is the perfect yacht to stand out even amongst the striking beauty of the islands of St Martin and the BVI. This summer she'll be available for event charters, boasting exceptional quayside entertainment for 100, parties at anchor for 35 and accommodation for up to 12 guests.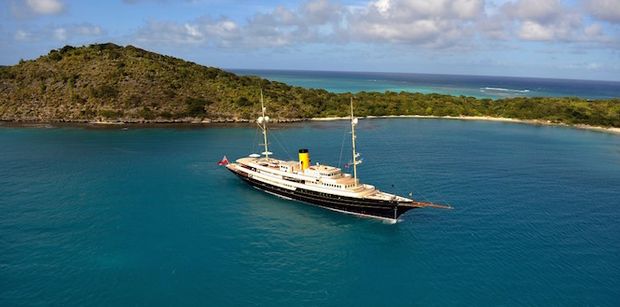 The unique features start outside with her expansive deck spaces. With a length of over 90 metres, NERO offers 4 decks of sociable and functional space for both families and new business partners to come together. Multiple spaces in various sizes means the NERO can offer the intimacy of a romantic dinner or the space for eye-catching entertainment if necessary.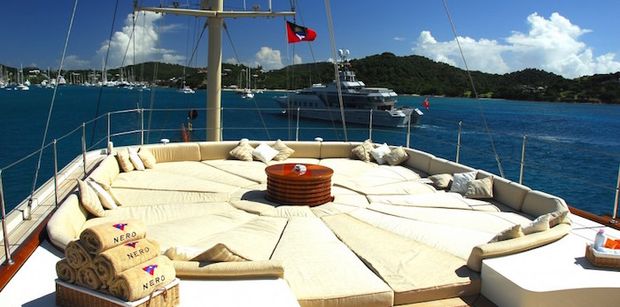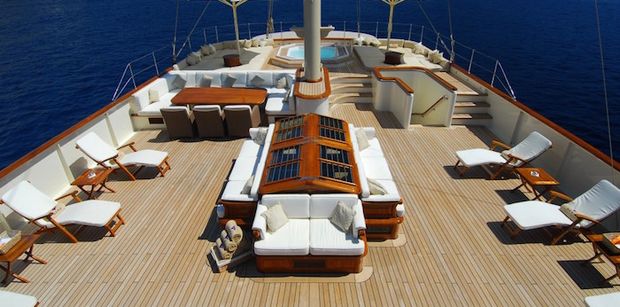 The yacht boasts the very rare addition of an outdoor "snug" area which is both shaded and air-conditioned, offering an excellent spot to enjoy an al fresco lunch during the heat of the day whilst not missing out on any scenery. As well as a large sun deck with jacuzzi and vast lounging options, NERO has perhaps one of the most exclusive swimming pools on the planet on her fore deck. The 5.7m pool is perfect for a quick morning workout with a current machine to ensure a challenging dip!
Inside, the timeless elegance spreads throughout the vast interiors with a number of saloon spaces, a cinema room and 6 cabins accommodating 12 guests in complete comfort and opulence. The master suite is an abode like no other with private lounge, dining saloon, his and hers bathrooms, private access to the observation saloon/cinema and office.
As well as this, the further 5 cabins all offer ensuite dressing rooms and large bathrooms to guarantee that everyone onboard has a completely unmatched experience. With 20 crew members on board led by British captain Nick, a premium service is guaranteed.
NERO is an eye-catching design, an icon of the modern era with some of the most striking lines to be seen on the water today. For those looking to host an unforgettable event at the Cannes Film Festival, the Monaco Grand Prix or the Cannes Lions she is a unique option guaranteed to have people talking for weeks. Contact us today for more information on event chartering and NERO.