Today we start with a dinghy ride to the pier at Foxy's Taboo in order to hike to the "Bubbling Pools" – an inlet continually refilled by the crashing waves, then snorkeling at our favorite deserted island – Sandy Spit, and onward to White Bay, Jost Van Dyke,  home to the Soggy Dollar bar and one of the most beautiful beaches anywhere.
The Bubbling Pools
After breakfast, we took a 5 minute dinghy ride to the pier at Foxy's Taboo at Diamond Cay at the far eastern end of Jost Van Dyke. Foxy's Taboo is not the famous Foxy's – it is a bar/restaurant that was started much more recently by the same owner. We will pass by Foxy's later on today!
Walking along the beach, there is a sandy path that takes you through some mangroves, by a lake and over the rocks (where you can usually see wild goats) and you'll soon reach the Bubbling Pools. This is a great place to swim in the gurgling waters, climb on the rocks and  enjoy the rhythm of the waves. Kids also love it because of the water crashing regularly into the pools makes for great sport.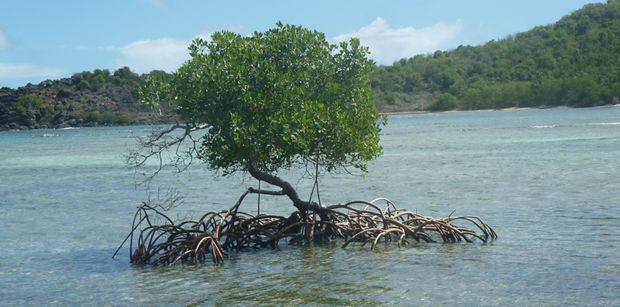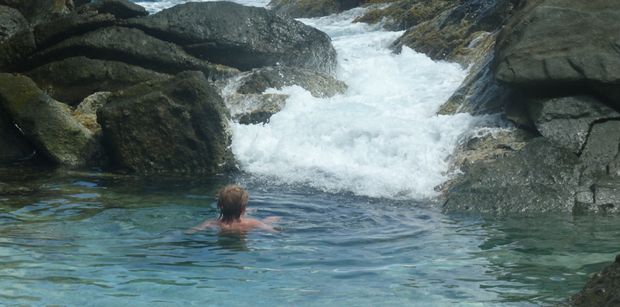 After perhaps an hour at the Bubbling Pools, we made our way back to Foxy's Taboo, and then dinghy-ed back to our boat, for the short sail to Sandy Spit.
Sandy Spit
Sandy Spit is one of the most delightful attractions in the BVI.  It's simply a deserted island with a few trees and bushes surrounded by beautiful beaches and some very healthy coral reefs.  Perfect for swimming, snorkeling, beach games, and dreaming what it would be like to be shipwrecked on an island. Anchor on the leeward side, jump in with your snorkeling gear and swim ashore to enjoy its simple pleasures.
We stayed at Sandy Spit for most of the afternoon, then headed to White Bay, which offers two amazingly beautiful beaches: one serene, one host to the daily Jost Van Dyke party scene (more on that tomorrow).
White Bay, Jost Van Dyke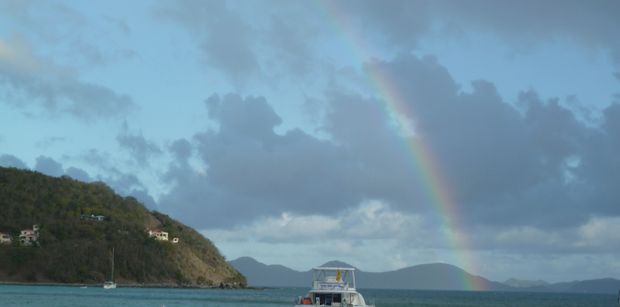 We decided not to spend a night in Great Harbor, where most of the boats moor on Jost Van Dyke because of the lure of Foxy's (the most famous bar and dancing spot in the BVI). It can get quite crowded and noisy there. Instead, we opted for more tranquility and anchored in White Bay and took a dinghy over to Great Harbor for dinner and dancing.  It's so much nicer to wake up in beautiful White Bay, which is quiet and peaceful until afternoon.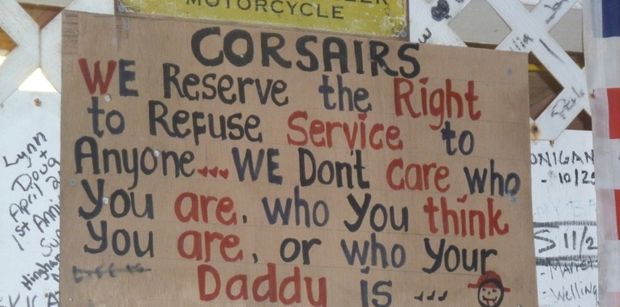 Corsairs is  known as one of the best restaurants in the BVI (local fish, meats, pizza, pasta etc.), which was packed because of its excellent value.  And of course, we couldn't avoid spending a couple of hours dancing at Foxy's  and meeting the locals.
Tomorrow – Soggy Dollar Bar, a sail back to Norman Island, and Halyard Jumping in the Bight