If you're looking to explore the French Riviera this summer, look no further than PALM B, a fabulous build by Akdeniz. Available to charter from 65,000 € per week, you can board PALM B in Nice, and work your way along the French Riviera, whether you want to explore Monaco or head down to St Tropez.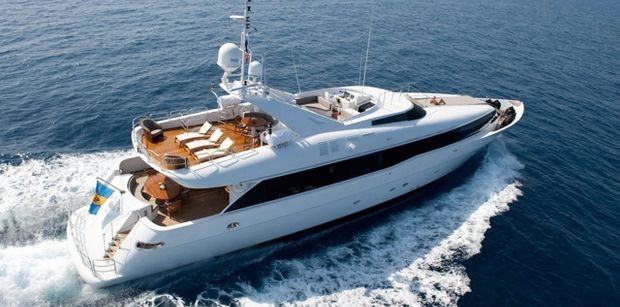 PALM B is sleek and stylish both inside and out. Accommodating up to 10 guests in 5 cabins, the furnishings are modern yet simplistic. The cabins are spacious and bright – the master cabin comes with king size bed and its own private lounge. The salon has cream furnishings, with plenty of sofas for relaxing, and a there is a separate area for formal dining. There is also plenty of opportunity to indulge in some al fresco dining, with seating areas on both the main deck and flybridge. There is also a sunbed at the front, and sun loungers on the flybridge, which will welcome any sun-worshippers on board! The jacuzzi on the flybridge is also great for chilling out with your friends. PALM B has a crew of six, who will ensure that from the moment you step on board, you are embarking on one of the most memorable vacations you will have ever had!
Are you interested in chartering on the French Riviera? At www.boatbookings.com, we welcome everyone from sailing professionals to complete novices and will help you at every step of the way to make your dreams a reality. We have a team of highly skilled professionals who are extremely knowledgeable in their destinations and will be able to help you with any questions you may have.
Watch this space for the latest industry show releases, news and gossip in the yachting world. If you liked the content on this page and our previous posts, please become a fan and like our Facebook page to receive up to date information on our publications. Follow us on Twitter and Google Plus too.