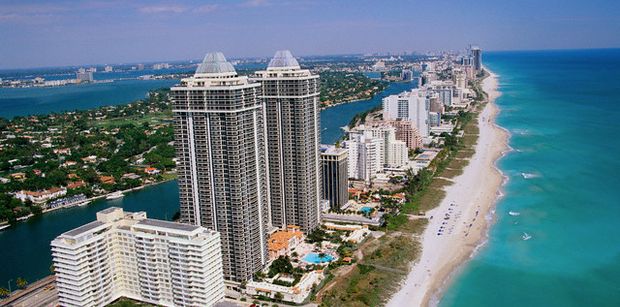 The Miami International Boat Show is Florida's largest annual event, showcasing more than 3,000 boats and 2,000 exhibitors in three locations for 4 days from the 14th February. The Miami Beach Convention Centre, the Sea Isle Marina and Miamarina at Bayside will host the event which is often regarded as one of the best places for a preview of the upcoming yachting season. So what should you expect from the show? No matter whether you are looking for the latest powerboats, sailboats, ribs, marine electronics and accessories, look no further than this years show. There really is something for everyone! If you are not looking to buy something, the show is still worth a visit, thanks to the numerous seminars where you are bound to acquire knowledge. Tickets start at $20 per day for adults, with a 5 day pass at $85 and kids going free with a paying adult. So if you are in town and looking for something to do, don't miss the chance to go to this show and see everything that it has to offer.
If you are a catamaran lover, you will be delighted to find some of the finest Lagoon, Leopard and Fountain Pajot's on offer at this years show. Amongst our team, it is quite clear to see that Lagoon catamarans are some of our favourites, thanks to their build quality, comfort and style. We have a large number available for charter throughout the world, including the Indian Ocean, Mediterranean and Caribbean. However, one of our latest additions is the luxurious Lagoon 620 in Singapore, available for large event charters for up to 27 guests. Singapore is one of the worlds largest hubs, with excellent retail outlets, cultural hotspots and beaches, making this an ideal destination to charter a yacht for either a corporate or personal event. For other Singapore charter yachts, please click here and contact Kevin who will be delighted to help you organise an unforgettable day out!
Have you never chartered before? At www.boatbookings.com, we welcome everyone from sailing professionals to complete novices and will help you at every step of the way to make your dreams a reality. We have a team of highly skilled professionals who are extremely knowledgeable in their destinations and will be able to help you with any questions you may have.
Watch this space for the latest industry show releases, news and gossip in the yachting world. If you liked the content on this page and our previous posts, please become a fan and like our Facebook page to receive up to date information on our publications.
Follow us on Twitter and Google Plus too!