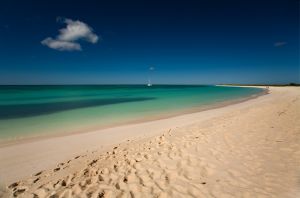 Following on from October's edition of our top 5 luxury charter yachts in the West Mediterranean, November's edition aims to bring you the very best crewed catamarans for the upcoming BVI and Caribbean season. There is no better way to spend your christmas vacation than in the natural beauty of the BVI with both friends and family on a luxury crewed catamaran charter, which allows you to relax and spend time with loved ones. Tortola is renowned for being one of the leading sailing destinations in the world, with beautiful white sandy beaches and turquoise waters. The north coast of the island is where you will find the best beaches, perfect for sailing, surfing, scuba diving and snorkeling. The turquoise waters of Smugglers Cove, on the western tip of the island, are particularly popular with snorkelers but never feel overly crowded. It really is paradise.

The first of our top crewed catamarans is CATTITUDE, a 75ft Privilege Alliaura with 4 beautiful cabins and a great crew. She is brand new and offers a sumptuous black and white decor throughout, giving a contemporary yet elegant feel to the vessel.  All four cabins have en-suite bathroom facilities, making this a great option for chartering with a close set of friends, as each couple will have their own suite. The master cabin features a generous suite, with a king sized bed, his and her sinks, a jacuzzi bath tub and a hydro massage shower. Guests will find all the modern technology that they will need, including the very latest iPod music system, as well as a large set of water toys to keep the kids happy! She is booked over Christmas and New Year, but remains at your disposal for many weeks in December, January and February so don't miss the opportunity of a lifetime to charter her in the BVI or the Grenadines.
The second of our favourite crewed catamarans is IN THE WIND, a 62ft 2011 Sunreef with 4 stunning cabins. The Boatbookings.com view of this yacht is simple: "A high performance luxury sailing catamaran – guaranteed to exceed expectations" She is a great choice for your Christmas luxury yacht charter and will not disappoint even the most discerning guests. She has plenty of water toys and games on board, including water ski's, Sea-doos, kayaks and diving gear to satisfy the whole family. Her styling is bold and incorporates dark wood with bold fixtures and fittings, making her quite unique in the crewed catamaran market. Her cabins are spacious and comfortable and provide excellent sleeping quarters for both friends and family. There is no better way to enjoy this luxury crewed catamaran than on her Flybridge, offering great space for the whole family to relax, socialise and soak up all that the BVI has to offer.
If you would like to find out more information on how to charter in the BVI or anywhere else in the world, please do so via our website www.boatbookings.com. If you are interested in any of the boats listed, please enquire through the page links to the yachts or send an email to [email protected]. Watch this space for Part II of our favourite November luxury crewed catamarans. To view our top 5 yachts for the upcoming season in the Western Mediterranean, please click here.